US Visa Acceptance Rate 2022 offers a detailed overview of the success and rejection rates for various types of visas. From B1/B2 visas for business and tourism to H1B & H3 visas for specialized employment, this guide examines the latest statistics. Delving into F1 & F2 visas for students, J1 & J2 for exchange visitors, and even lesser-known categories, we provide an exhaustive look at U.S. visa approval and rejection rates for 2022 and beyond.
Published On:
---
Last Updated: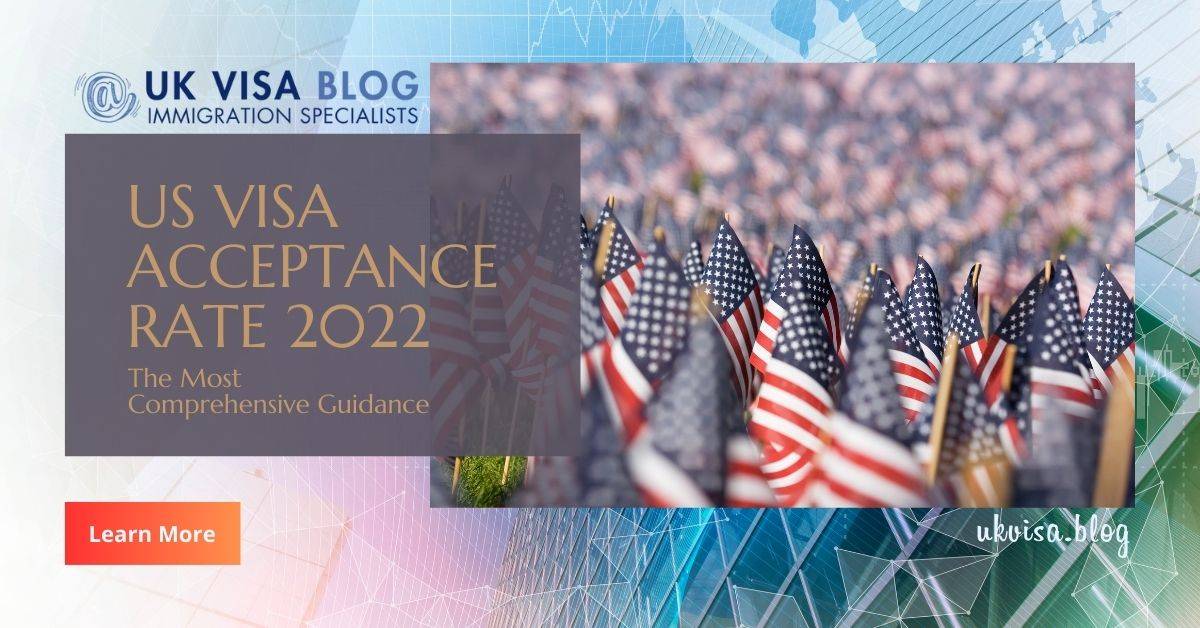 1. US Visa Acceptance Rate 2022
---
The visa application process can often feel like a labyrinth, with various categories and varying rates of acceptance and rejection. While individual experiences may differ, understanding the bigger picture can offer valuable insights into your own journey toward obtaining a U.S. visa.
For the fiscal year 2022, a whopping 8,091,313 visa applications were submitted across all categories. Of these, 6,815,120 were issued, while 1,276,193 were refused. This puts the overall US visa success rate at approximately 84.23% and the US visa refusal rate at 15.77%.
High US Visa Acceptance Rate in 2022
These figures offer a broad perspective, indicating that the odds are generally in favor of the applicant. An 84.23% US visa success rate suggests a relatively high likelihood of visa approval, providing a ray of hope for those in the process or considering an application.
2. B1/B2 Visa Approval Rate 2022
---
For many individuals seeking to travel to the United States for business, tourism, or specific non-employment reasons, the B Type visas are often the go-to option. This category encompasses various sub-types, each with its own set of acceptance and rejection rates that can provide a more tailored understanding of your chances.
B1 Visa Approval Rate for Business Travelers
In the fiscal year 2022, there were 25,714 applications for the B1 visa, targeting business travelers. Of these, 21,943 were issued, and 3,771 were refused. This results in an encouraging US B1 visa approval rate of 85.33% and a refusal rate of 14.67%. If you're planning a business trip, these numbers offer a favorable outlook.
B1/B2 Visa Acceptance Rate for Business and Tourism Combined
The B1/B2 visa, a more versatile option catering to both business and tourist activities, had a total of 4,063,202 applications. A significant 3,228,199 were issued, but 835,003 were refused. Although the numbers are large, the success rate stands at 79.45%, with a refusal rate of 20.55%. This category has a slightly higher risk but still represents good odds for approval.
B2 Visas: US Tourist Visa Rejection Rate 2022
The B2 visas, specifically for tourists, had 8,575 applications, with 5,905 approvals and 2,670 rejections. The success rate here is 68.86%, which is somewhat lower than its B1 and B1/B2 counterparts, but still, over two-thirds of applicants are successful. The refusal rate is 31.14%, indicating a higher level of scrutiny in this category.
BBBCC and BBBCV: Special Categories
Then we have the BBBCC and BBBCV, which are special categories within the B Type visas. BBBCC had a striking 94.08% success rate with 1,182,329 approvals out of 1,256,695 applications. BBBCV followed closely with a 91.04% success rate based on 62,153 approvals from 68,272 applications. Both these categories offer very high chances of approval, with refusal rates of only 5.92% and 8.96%, respectively.
---
Get Expert Guidance for All Types of UK Visa and Immigration Applications, Reapplications, Refusals, and Appeals.
---
Enquiry Form
What Happens Next?
Our multilingual, qualified London-based immigration specialists will get back to you, usually within 2-3 working days. If you have not attached any documents, the UK-based law firm may ask for relevant case-specific documents such as refusal letters, deportation orders, application forms, etc. After reviewing the documents and information, the legal advisor may suggest a course of action and quote the fees for processing the application.
Have a Wonderful Day!
---
3. F1 & F2 Visa Rejection Rate 2022
---
The United States is one of the most popular destinations for international students, and the F Type visas serve as the primary gateway for academic opportunities. However, the success rates for these visas indicate that they are subject to rigorous scrutiny.
F1 Visas: Academic Students
The F1 visa is designed for academic students and is the most applied-for within the F Type category. In FY 2022, there were 631,807 applications for the F1 visa. Of these, 411,131 were approved while 220,676 were refused. This translates to a success rate of 65.07% and a refusal rate of 34.93%. Given the volume of applications, it's clear that the F1 visa is highly competitive, and applicants should be well-prepared to face the screening process.
F2 Visas: Dependents of F1 Visa Holders
The F2 visa is meant for the dependents of F1 visa holders, typically family members who accompany the student. In 2022, there were 46,728 F2 visa applications. Out of these, 25,887 were approved, and 20,841 were rejected. This gives us a success rate of 55.40% and a refusal rate of 44.60%. These figures suggest that securing an F2 visa can be challenging and may require additional documentation or evidence to support the application.
4. H1B & H3 Visa Rejection Rate 2023
---
The H Type visas, designed primarily for temporary workers and trainees, depict a compelling narrative when it comes to visa issuance and refusal. This category is vital for those considering work-related opportunities in the United States. Here's an in-depth look at the figures:
H1B: Specialty Occupations
Issued: 206,002
Refused: 5,020
Total Applications: 211,022
Success Rate: 97.62%
Refusal Rate: 2.38%
The H1B visa, often sought by professionals in specialty fields, shows a high approval rate of nearly 98%. This indicates that the U.S. is still a favorable destination for skilled workers.
H1B1: Free Trade Agreement Workers
Issued: 2,376
Refused: 129
Total Applications: 2,505
Success Rate: 94.85%
Refusal Rate: 5.15%
This category, specifically designed for certain workers from Singapore and Chile, also boasts a high acceptance rate, nearing 95%.
H1C: Nurses in Health Professional Shortage Areas
The H1C is an incredibly specialized category for nurses, and the data indicates there was only one application, which was refused.
H2A: Temporary Agricultural Workers
Issued: 298,336
Refused: 10,694
Total Applications: 309,030
Success Rate: 96.54%
Refusal Rate: 3.46%
The H2A visa category, tailored for temporary agricultural work, shows strong figures with a success rate above 96%.
H2B: Temporary Non-Agricultural Workers
Issued: 124,644
Refused: 6,712
Total Applications: 131,356
Success Rate: 94.89%
Refusal Rate: 5.11%
Similar to the H2A, the H2B for non-agricultural workers also has an impressive success rate, standing at approximately 95%.
H3: Trainee or Special Education Visitor
Issued: 695
Refused: 105
Total Applications: 800
Success Rate: 86.88%
Refusal Rate: 13.13%
The H3 visa, designed for trainees in various fields except medical education, has an approval rate of nearly 87%, which is lower compared to other H type visas but still commendable.
H4: Dependents of H Type Visa Holders
Issued: 137,246
Refused: 3,514
Total Applications: 140,760
Success Rate: 97.50%
Refusal Rate: 2.50%
The H4 visa, for dependents of H type visa holders, rounds out this category with a stellar 97.5% success rate.
5. J1 & J2 Visa Rejection Rate 2022
---
J-Type visas are primarily meant for exchange visitors and their dependents, designed to promote cultural exchange and skills development. In this section, we delve into the approval and rejection statistics for J1 and J2 visa categories in 2022.
J1 Visa: The Mainstay of Cultural Exchange
In the J1 category, which often encompasses students, scholars, and various kinds of trainees, the figures are quite positive. Out of 320,047 total applications, 284,486 were approved, resulting in a success rate of 88.89%. Meanwhile, 35,561 applications were refused, which translates to a rejection rate of 11.11%. The data suggests that the majority of applicants in this category successfully navigate the application process, making it one of the more attainable U.S. visa categories.
J2 Visa: For Dependents and Family
The J2 visa is designated for spouses and dependents of J1 visa holders. The approval rate is even higher in this category, standing at 92.03%. Out of 33,227 total applications, 30,579 were approved, while 2,648 were refused, making the refusal rate just 7.97%. These high approval rates indicate that dependents of cultural exchange visitors also have a good chance of obtaining a visa.
6. C1D Visa Rejection Rate 2022
---
When it comes to C and D type visas, the numbers reveal a mostly favorable approval rate. These visa types are often associated with transit and crewmember statuses, which are essential for global commerce and travel.
C1 Visas: Transit Visa
Issued: 8,643
Refused: 2,605
Total Applications: 11,248
Success Rate: 76.84%
Refusal Rate: 23.16%
The C1 transit visa shows a success rate of 76.84%, which indicates a relatively high level of scrutiny compared to other visa categories. This is likely because transit visas can sometimes be a pathway for unauthorized entry into the U.S.
C1/D Visas: Combined Transit and Crewmember Visa
Issued: 253,424
Refused: 10,454
Total Applications: 263,878
Success Rate: 96.04%
Refusal Rate: 3.96%
Contrastingly, the C1/D visa, designed for transit and crewmembers, boasts a high approval rate of 96.04%, reflecting its specialized nature and, possibly, more stringent pre-application vetting.
C2 and C3 Visas: Special Transit Visas
C2 and C3 visas are used for individuals transiting to and from the United Nations Headquarters. The high approval rates for these categories (88.89% for C2 and 96.95% for C3) underscore their specific use-case and the diplomatic relations involved.
CW1 and CW2 Visas: Commonwealth Transitional Workers
The Commonwealth visas (CW1 and CW2) are for transitional workers and their dependents. While CW1 has a high approval rate of 86.03%, CW2 faces a much higher refusal rate at 27.38%, which suggests varying eligibility requirements or screening processes.
D Visas: Crewmember Visa
The D visa, specifically for crewmembers on sea vessels or international airlines, also exhibits a high approval rate of 92.88%. This is in line with its specialized nature, often requiring applicants to meet strict criteria for issuance.
7. A-Type US Visa Rejection Rate 2022
---
In the realm of diplomatic and foreign government-related visas, the A-Type category stands out for its exceptionally high approval rates. The visas within this category are primarily designed for diplomats, government officials, and their support staff. Here's a detailed look at the three sub-categories of A-Type visas.
A1 Visas: For Ambassadors, Diplomats, and High-Ranking Officials
Issued: 9,395
Refused: 504
Total Applications: 9,899
Success Rate: 94.91%
Refusal Rate: 5.09%
With a staggering success rate of 94.91%, the A1 visa class is among the most reliably approved. This is not surprising given the high-profile nature of the applicants, who typically undergo thorough vetting even before application.
A2 Visas: For Other Foreign Government Officials and Employees
Issued: 85,752
Refused: 4,450
Total Applications: 90,202
Success Rate: 95.07%
Refusal Rate: 4.93%
The A2 category demonstrates an even higher success rate at 95.07%. These visas are often granted to government officials below the level of ambassador but who still play a crucial role in diplomatic relations. The high approval rate suggests a mutual trust between countries and their representatives.
A3 Visas: For Personal Employees or Assistants to A1 and A2 Visa Holders
The A3 visa category, designed for support staff accompanying A1 or A2 visa holders, experiences a success rate of 87.16%. While this is lower compared to the other A-Type visas, it's important to consider that the support staff may not always go through the same level of pre-vetting as their diplomatic counterparts, which could explain the higher refusal rate.
8. L1 Visa Acceptance Rate 2022
---
The L-Type visas are integral for companies operating in both the U.S. and other countries, allowing them to transfer employees seamlessly across borders. These visas are typically granted for managerial or specialized knowledge roles (L1) and their dependents (L2). Here's a closer look at the two primary sub-categories of L-Type visas:
L1 Visas: For Managers and Specialized Employees
Issued: 72,958
Refused: 2,199
Total Applications: 75,157
Success Rate: 97.07%
Refusal Rate: 2.93%
The L1 visas, designed for intracompany transferees, exhibit a remarkable success rate of 97.07%. The high approval rate can be attributed to the rigorous screening processes typically undertaken by companies before transferring their employees, coupled with the specialized skills these employees usually possess.
L2 Visas: For Dependents of L1 Visa Holders
Issued: 78,448
Refused: 1,918
Total Applications: 80,366
Success Rate: 97.61%
Refusal Rate: 2.39%
The L2 visa, which is intended for spouses and dependent children of L1 visa holders, shows an even higher success rate at 97.61%. The high approval rate for L2 visas aligns with the L1 visa trend, given that the approval of L1 often leads to a successful L2 application for dependents.
9. E2 Visa Approval Rate 2022
---
E-Type visas are essential for entrepreneurs, traders, investors, and certain specialized employees from treaty countries who wish to conduct business in the U.S. Below, we delve into the different sub-categories of E-Type visas and examine their success and refusal rates.
E1 Visas: Treaty Traders
Issued: 5,383
Refused: 465
Total Applications: 5,848
Success Rate: 92.05%
Refusal Rate: 7.95%
Designed for individuals engaged in international trade, the E1 visas come with an impressive 92.05% success rate. This high approval rate signifies the importance of these traders in bolstering international commerce.
E2 Visas: Treaty Investors
Issued: 45,878
Refused: 4,823
Total Applications: 50,701
Success Rate: 90.49%
Refusal Rate: 9.51%
The E2 visas cater to investors from treaty countries who make substantial capital investments in the U.S. With a solid 90.49% E2 visa approval rate, this visa type is indispensable for driving foreign direct investment into the U.S.
E2C Visas: Employees of E2 Investors
Issued: 34
Refused: 5
Total Applications: 39
Success Rate: 87.18%
Refusal Rate: 12.82%
Though less commonly applied for, the E2C visa facilitates the entry of employees working under E2 investors. It carries an 87.18% success rate, slightly lower compared to other E-Type visas, but still quite promising.
E3 Visas: Specialized Occupation for Australians
Issued: 4,731
Refused: 98
Total Applications: 4,829
Success Rate: 97.97%
Refusal Rate: 2.03%
Exclusive to Australian nationals, the E3 visas have an exceedingly high success rate of 97.97%. This highlights the strength of the U.S.-Australia trade relationship.
E3D Visas: Dependents of E3 Visa Holders
Issued: 3,292
Refused: 97
Total Applications: 3,389
Success Rate: 97.14%
Refusal Rate: 2.86%
For spouses and dependents of E3 visa holders, the E3D visa holds a remarkable 97.14% success rate, aligning well with the main E3 visa category.
E3R Visas: E3 Visa Renewals
Issued: 2,631
Refused: 26
Total Applications: 2,657
Success Rate: 99.02%
Refusal Rate: 0.98%
The E3R category for renewals posts an astonishing 99.02% success rate, confirming the consistency in the evaluation and approval process.
10. US TN Visa Rejection Rate 2022
---
The TN (Trade NAFTA) and TD (Trade Dependent) visas are designed to facilitate the temporary employment of Canadian and Mexican professionals in the United States under the North American Free Trade Agreement (NAFTA). These visas have gained significance due to their high approval rates, as shown in the FY 2022 statistics.
TN Visas: For NAFTA Professionals
Issued: 33,361
Refused: 4,299
Total Applications: 37,660
Success Rate: 88.58%
Refusal Rate: 11.42%
The TN visa, open to Canadian and Mexican citizens who meet specific qualifications, has an impressive success rate of 88.58%. This high approval rate underscores the effectiveness of NAFTA in facilitating skilled labor exchange and contributing to the North American economy.
TD Visas: For Dependents of TN Visa Holders
Issued: 16,575
Refused: 623
Total Applications: 17,198
Success Rate: 96.38%
Refusal Rate: 3.62%
The TD visa, available for the spouses and children of TN visa holders, sports an exceptionally high success rate of 96.38%. The low refusal rate of 3.62% indicates that dependents have a strong likelihood of joining their family members who are working in the U.S. under the TN visa program.
11. G-Type US Visa Approval Rate 2022
---
The G-Type visas are designated for representatives of international organizations and their immediate family members. These visas are pivotal for global diplomacy and administrative functionality within international bodies. Here's an in-depth look at the different G-Type visas based on the data from FY 2022.
G1 Visas: Permanent Mission Members
Issued: 4,382
Refused: 377
Total Applications: 4,759
Success Rate: 92.09%
Refusal Rate: 7.91%
The G1 visa is for representatives of a permanent mission of a recognized government to an international organization. With a high success rate of 92.09%, this category reflects the importance and credibility of such roles in international organizations.
G2 Visas: Observers and Representatives
Issued: 13,092
Refused: 1,492
Total Applications: 14,584
Success Rate: 89.76%
Refusal Rate: 10.24%
G2 visas are issued to representatives or observers to specific international organizations. The success rate remains robust at nearly 90%, underlining the generally positive stance towards these visa applicants.
G3 Visas: Non-Recognized or Non-Member States
Issued: 357
Refused: 9
Total Applications: 366
Success Rate: 97.54%
Refusal Rate: 2.46%
The G3 visas, open to representatives from non-recognized or non-member states, showcase a notably high success rate of 97.54%. These figures suggest a certain openness to engaging with these non-traditional stakeholders.
G4 Visas: International Organization Officers or Employees
Issued: 19,944
Refused: 697
Total Applications: 20,641
Success Rate: 96.62%
Refusal Rate: 3.38%
G4 visas cater to individuals taking up appointments in international organizations. With a success rate of 96.62%, this category is a strong testament to the value placed on international collaboration.
G5 Visas: Personal Employees or Domestic Workers
Issued: 281
Refused: 43
Total Applications: 324
Success Rate: 86.73%
Refusal Rate: 13.27%
The G5 visa is designed for personal employees or domestic workers of G1-G4 visa holders. Although the success rate is slightly lower at 86.73%, it's still considerably high, indicating a general receptivity to supporting the broader ecosystem around international organization representatives.
12. K1 Visa Approval Rate 2023
---
The K-Type visas are reserved primarily for fiancé(e)s and spouses of U.S. citizens, along with their minor children. These visas serve as a pathway for family reunification and eventual permanent residence in the United States. Below is an analysis of the K-Type visas based on Fiscal Year 2022 data.
K1 Visas: Fiancé(e) of U.S. Citizens
Issued: 21,351
Refused: 3,192
Total Applications: 24,543
Success Rate: 86.99%
Refusal Rate: 13.01%
The K1 visa is designed for the fiancé(e)s of U.S. citizens who intend to marry within 90 days of entry into the United States. With an K1 visa approval rate of nearly 87%, the K1 visa remains one of the more accessible pathways for uniting couples across borders.
K2 Visas: Children of K1 Visa Holders
Issued: 3,441
Refused: 43
Total Applications: 3,484
Success Rate: 98.76%
Refusal Rate: 1.24%
The K2 visa applies to the minor children of K1 visa applicants. The remarkably high success rate of 98.76% for K2 visas suggests that the U.S. immigration system places a high priority on keeping families together.
K3 Visas: Spouses of U.S. Citizens Awaiting Immigrant Visas
The K3 visa is for spouses of U.S. citizens who are awaiting the approval of an immigrant visa. With only 16 total applications, the numbers are too small to offer a comprehensive view. However, it's noteworthy that the refusal rate is higher in this category, at 68.75%.
K4 Visas: Children of K3 Visa Holders
The K4 visa is designated for the children of K3 visa holders. The data shows just one application, which was approved, making it difficult to draw significant conclusions for this category.
13. Other Categories
---
For the sake of completeness, it's essential to address the acceptance rates of other types of U.S. visas that are not commonly discussed. While some of these categories have significant numbers of issued and refused visas, others had no applications at all in the recent data year.
Visa Categories with Data
I Visa (89.81%): Journalism, 9,917 Issued – 1,129 Refused
M1 Visa (73.32%): Vocational Students, 5,271 Issued – 1,917 Refused
M2 Visa (69.94%): Dependents of M1, 242 Issued – 104 Refused
N8 & N9 Visas (51.85%): Special Immigrants, 14 Issued – 13 Refused
NATO Visas (99.09%): For NATO Personnel, 7,388 Issued – 68 Refused
O Visas (95.78%): Extraordinary Ability, 37,922 Issued – 1,675 Refused
P Visas (91.74%): Athletes & Entertainers, 27,424 Issued – 2,468 Refused
Q1 Visa (95.31%): Cultural Exchange, 1,057 Issued – 52 Refused
R Visas (83.72%): Religious Workers, 5,904 Issued – 1,148 Refused
T Visas (89.47%): Human Trafficking Victims, 306 Issued – 36 Refused
U Visas (84.67%): Crime Victims, 1,501 Issued – 272 Refused
Categories with No Applications
The following visa categories reported no applications for the year:
M3
NATO3 to NATO7
S5, S6, S7
T1
This absence of applications in these specific categories could indicate they are less commonly used, or perhaps they cater to a very niche audience. Nonetheless, it's critical to be aware of these lesser-known visa types as part of a comprehensive understanding of U.S. visa acceptance rates.
14. Frequently Asked Questions (FAQs)
---
What is US visa acceptance rate in 2022?

In 2022, the overall US visa success rate was 84.23%, leaving a US visa refusal rate of 15.77%.

What is the U.S. tourist visa approval rate in 2022?

The B2 visa approval rate for tourism in 2022 stood at 68.86%. For combined B1/B2 visas for business and tourism, the acceptance rate was 79.45%.

What is the F1 visa rejection rate in 2022?

The US F1 student visa refusal rate in 2022 was calculated to be 34.93%.

What is the H1B visa rejection rate in 2022?

According to the latest data, the H1B work visa had a rejection rate of 2.38% in 2022.

What is the approval rate for J1 visas in 2022?

The J1 visa, primarily for exchange visitors, had an acceptance rate of 88.89% in 2022.

What was the success rate of E2 Visas in 2022?

The E2 Treaty Investor visas had an impressive acceptance rate of 90.49% in 2022.

What is the approval rate for K1 visas in 2023?

In 2023, K1 fiancé(e) visas had an approval rate of 86.99%.

What is the US visa rejection rate for A1 visas in 2022?

A-Type visas, which are for diplomats and foreign government officials, had a remarkably low rejection rate of 5.09% in 2022.