Navigating the "Turkish Businessperson Visa Extension" process may seem daunting, especially with recent shifts in the UK immigration landscape. While the Turkish Businessperson visa route has ceased accepting new applications, those already holding this specific visa still have avenues to prolong their stay in the UK. This guide is crafted to simplify the extension process, highlighting eligibility criteria, application steps, and the potential pathway to UK settlement and citizenship for visa holders.
Table of Contents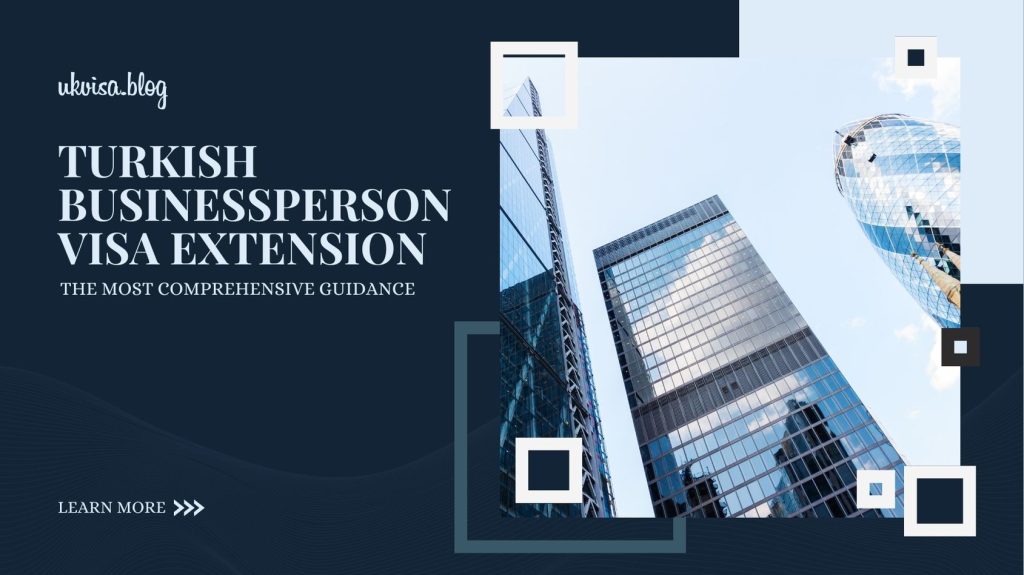 1. Introduction
Turkish Businessperson Visa Extension Rules
Understanding the ECAA Framework
The Appendix ECAA Extension of Stay, a crucial component of the UK's Immigration Rules, serves as the guiding compass for Turkish Businessperson visa extensions. "ECAA" stands for the European Communities Association Agreement – a historic pact penned in the 1960s. This Ankara Agreement aimed to cultivate economic relations between Turkey and the European Community, setting the stage for Turkey's anticipated entry into the Community.
UK's Role in ECAA: From Membership to Brexit
The UK was not just a passive observer but a signatory to the ECAA, thanks to its allegiance to the European Union. However, the Brexit winds changed this trajectory. With the conclusion of the EU Withdrawal Agreement's transition period on December 31, 2020, the UK bid adieu to the European Union. This departure led to the Immigration and Social Security Co-ordination (EU Withdrawal) Act 2020 coming into force, effectively sidelining various ECAA provisions that existed between the EU and Turkey.
A Ray of Hope for Turkish Nationals
Despite these tectonic shifts, there's a silver lining for Turkish nationals and their kin. Those who previously found a footing under the ECAA umbrella can still seek to extend their UK stay. They can do so by adhering to the guidelines detailed in the Appendix ECAA Extension of Stay.
For further information, please refer to UK Visa Requirements for Turkish Citizens and Turkish Worker Visa.
2. Benefits and Criteria
Turkish Businessperson Visa Extension Rules
---
For those who have carved a niche for themselves in the UK business landscape under the Turkish Businessperson visa, there's the opportunity to dive deeper into their entrepreneurial pursuits. The Turkish Businessperson visa extension allows holders to further their business journey in the UK.
The Privileges of Extending Your Visa
Business Flexibility: Continue to spearhead your existing business, embark on a new entrepreneurial venture, or seamlessly integrate into an established UK enterprise.
Education & Volunteering: Engage in voluntary work or immerse yourself in further studies.
Crucial Eligibility Criteria for Extension
Securing a Turkish Businessperson visa extension requires meticulous adherence to the stipulated criteria, as outlined under the Appendix ECAA. Here's a breakdown:
Foundational Requirements:
Visa Validity: A currently valid Turkish Businessperson visa, with an application made well before its expiration.
Adherence to UK Immigration Laws: An unblemished record during your UK stay, free from any immigration law infringements.
Business Centric Criteria:
Business Involvement: A genuine intent and action to either establish, acquire, or integrate as a partner/director in one or more UK businesses.
Viability of the Business: The business or businesses you're engaged with should be viable.
Operational Integrity: A demonstrated track record or intention to genuinely operate businesses in the UK.
Financial Commitment: Personal investment into the business proportional to your stake, and financial capacity to absorb potential business liabilities.
Employment and Financial Stability:
Genuine Self-Employment: A clear demonstration that your involvement isn't veiled employment, but a genuine self-employment stature.
Financial Independence: Proof that your share from business profits can sustain you and your family without resorting to additional employment or public funds.
Factors That Influence UKVI's Decision
The UKVI takes a holistic approach in assessing Turkish Businessperson visa extension applications, focusing on:
Financial Integrity: The credibility of funds utilized for establishing or investing in the business.
Investment Timeline: Concrete evidence showcasing a maximum of 11 months' timeline for funneling uninvested funds into the business.
Business Financial Health: An evaluation of the financial statements of the business in question.
Business Proposition: The viability and credibility of your proposed UK business activities.
Mandatory Protocols: Ensuring the business has necessary accreditations, registrations, or insurances if the nature of the business demands them.
Get Expert Guidance for All Types of UK Visa and Immigration Applications, Reapplications, Refusals, and Appeals.
3. Application Process
Turkish Businessperson Application Process
---
1. Starting Your Application Online
Begin your Turkish Businessperson visa extension journey by applying online while you are in the UK.
2. Identity Verification & Document Submission
General Requirements: Proving your identity and furnishing supporting documents are quintessential.
Passport Type Dynamics: Depending on your passport type, the mode of document submission may vary.
Online Uploads & ID Check: Many can utilize the 'UK Immigration: ID Check' app for uploading their extension documents.
The Role of UKVCAS: For some, an appointment at a UKVCAS (UK Visa and Citizenship Application Services) service point might be necessary. This is your moment to:

Enroll biometric details – encompassing fingerprints and facial scans.
Acquire a new biometric residence permit.

Guidance from UKVI: You're not alone! UKVI will provide specific instructions on whether a UKVCAS appointment is needed.
3. Accommodating Your Family in the Application
Application for Cohabiting Family: If your spouse, partner, and any dependent children are living with you in the UK, they too should apply online to extend their tenure. Even dependents over 21, if they're under your visa, need to apply.
Synchronization with Your Visa: If your family has valid dependent visas and meet the extension requisites, their extension will coincide with yours. Simply, their visa's expiration will match yours.
Including Dependents in Your Application: You have two choices:

Incorporate your dependents directly in your Turkish Businessperson visa extension application.
Allow your dependents to tread the application path independently.

Dependent Application Specifics: Spouses or partners should apply online in the partner category, while child(ren) applications are also done online. Crucial for this step is the Unique Application Number (UAN) or Global Web Form (GWF) you receive. These identifiers, present in UKVI emails and letters, are vital for your child's application.
4. Bridging the Overseas Gap
For those who've chosen the UK as their abode while their family remains overseas, fret not. They too can embark on the UK journey with the Turkish Businessperson visa. All they need is to apply online as your dependent.
4. Supporting Documents
Supporting Documents for the Turkish Businessperson Visa Extension: A Comprehensive Guide
---
1. Basic Personal Documents
When kickstarting the extension process, ensure you have the following:
Identity and Nationality Proof: A valid passport or equivalent.
Financial Self-sufficiency: Documents like:

Payslips or bank statements from the past six months.
Any state benefits availed in the UK.

Accommodation Evidence: Documentation such as:

Mortgage or tenancy agreements.
Utility bills, council tax statements.
Bank statements and overseas money transfer receipts.

Current Visa: Your biometric residence permit indicating your Turkish Businessperson visa.
2. For Those Running an Established Business or Partnership
If you're actively steering a business or partnership, furnish the following:
Official Financial Records: Business accounts either:

Prepped by a chartered accountant.
Or vetted by an auditor.

Tax-Related Documents: From HM Revenue and Customs (HMRC), including evidence of payments.
Insurance: Pertinent insurance docs related to the business(es).
Business Finances & Investments:

UK or overseas bank statements.
Transfers of money from overseas.
Documentations on bank loans.

External Financial Assistance: If you've received aid from, say, a family member:

Their financial documents like bank statements.
Legal papers outlining their business role and share.

Your Business Role: A breakdown of your involvement terms.
Qualification & Experience: Relevant academic qualifications or proof of prior related experience.
3. For Initiators of a New Business or Partnership
If you're venturing into a new business or partnership, be prepared with:
Business Blueprint: A detailed business plan.
Funding & Investment: Proof of your monetary input, which could be:

Funding evidence.
Personal investment documents.

Official Registrations: If applicable, certificates from Companies House.
Tax & Insurance: Registration docs for tax and/or national insurance (NI), tax documents, staff and insurance details.
Operational Evidences: Copy contracts, invoices, premise documents.
Licences: Any required or already obtained licence.
Marketing & Feedback: Advertising proofs, testimonials.
Collaboration Details: If there's a partnership, the agreement thereof.
4. If Merging with an Existing Business
Joining an established venture? Keep handy:
Engagement Terms: A written declaration of your joining terms and conditions.
Past Business Financials: Previous 12 months' accounts.
Business Requirement: Evidence emphasizing the genuine necessity of your expertise and funds.
5. Indefinite Leave to Remain
UK Settlement or British Citizenship: The Turkish Businessperson Route (2023 Rules)
---
1. Extension Possibilities
Under the Turkish Businessperson visa, you have ample room for extensions:
Up to 3 Years at a Time: Each extension can be for a maximum period of 3 years.
Unlimited Extensions: You can request multiple extensions with no set limit. The key is to consistently satisfy the eligibility requirements for every Turkish Businessperson visa extension application.
2. Moving Toward Permanent Settlement (ILR)
Once you've resided legally in the UK under this visa for a 5-year duration:
Apply for Indefinite Leave to Remain (ILR): This is your path to UK permanent residency, granting you endless stay without restrictions or future visa renewals.
3. Transitioning to British Citizenship
Post obtaining your ILR, here's how you progress to full-fledged citizenship:
Hold ILR for at Least 12 Months: After this duration, you become eligible to apply for naturalization as a British citizen through UKVI.
4. Requirements for Settlement and Citizenship
Both settlement and citizenship under this route have stringent prerequisites:
Knowledge of Life in the UK: A critical requirement, this mandates understanding and acquainting oneself with UK culture and society.
Life in the UK Test: A pivotal step for those aspiring for settlement or citizenship. It's designed to assess your awareness and respect for the UK's laws, values, and traditions. Committing to either permanent residency or citizenship translates to endorsing these aspects wholeheartedly.
6. FAQs
Frequently Asked Questions (FAQs): Turkish Businessperson Visa Extension
---
1. Is there a fee for extending the Turkish Businessperson visa?
No, there isn't any fee to apply for the extension of the Turkish Businessperson visa. However, to ensure the success of your extension application, it might be beneficial to seek specialist legal advice, which could come with its own costs.
2. What is the processing time for the Turkish Businessperson visa extension?
After submitting your application and verifying your identity, the decision usually comes within 6 months. However, if you need to attend an appointment at a UKVCAS service point or if UKVI needs to verify your documents or conduct an in-person interview, the process might take longer. UKVI will inform you if that's the case. Do note, traveling outside the Common Travel Area (CTA) during this period might lead to the withdrawal of your application.
3. What happens if my Turkish Businessperson visa extension is denied?
4. Can I apply for the extension from Turkey?
Yes, if you already have the permission to be in the UK as a Turkish businessperson, you can apply for the extension. However, remember that there are strict eligibility requirements that must be adhered to.
5. Is it possible to extend a business visa while in the UK?
Yes, it is usually possible. The guidelines for extending business visas for Turkish nationals are provided in Appendix ECAA Extension of Stay of the Immigration Rules, linked to the European Communities Association Agreement (ECAA).