UK Visa Requirements Philippines in 2023: Application Fees and Entry Terms for Filipinos In 2023, the UK visa landscape has various categories, each with its own fee structure and processing times. The tourist visa for England or London is priced at US$129, often referred to as a 6-month visit visa application fee for Filipinos. Additionally, student and spouse visa fees from the Philippines are set at US$467 and US$1,980, respectively. The priority service fee, applicable for visit, student, and work visas, stands at US$322. Typically, the processing time post-biometrics for these applications is around 3 weeks.
Table of Contents
1. UK Visa for Filipino 2023
UK Visa Requirements Philippines
---
Filipinos looking to visit, work, or study in the UK must apply for the appropriate visa. The requirements vary depending on the type of visa application.
How much is UK Visa Fee in Philippines?
The cost of a UK visa for Filipinos depends on the visa type. For instance, tourist, student, and spouse visas are priced at US$129, US$467, and US$1,980, respectively.
How Long is UK Visa Processing in Philippines?
In 2023, standard processing times for non-settlement visas like tourist, study, and work visas typically take around 3 weeks.
Choosing the priority service can expedite this to 5 working days, with an additional fee of US$322.
Spouse Settlement Visa Processing Time for Filipinos
For spouse, partner, or family applications, the standard settlement visa processing time after biometrics is up to 12 weeks.
Priority service for these types of visas is available at a 6-week processing time for an extra fee of US$738.
Super Priority Visa Processing Time in Philippines
The super-priority service fee is US$1,231 for next-working-day processing. However, this service is currently not available in the Philippines.
How much does it cost to travel to UK from Philippines?
To travel from Philippines to the UK, you may need a minimum of $1,750 USD for a 7-15 day trip per person. Key costs include:
Visa Fee: Starts at $129 for a short-term visa.
Priority Service Fee: Optional, around $322.
Flight Cost: Varies, often between $700-$1,200.
Living Expenses: Budget for accommodation, food, and travel within the UK.
Travel Insurance: Costs vary based on coverage.
For a solo traveler, the estimated costs range from $1,750 to $5,225 USD, which includes all the above expenses in addition to daily living costs. Couples can expect to pay between $3,500 and $10,500 USD, with the only shared cost being accommodation. For a family of four, estimated expenses can range from $7,000 to $21,000 USD, factoring in individual flight and visa fees and potentially shared accommodation.
These figures are approximate and should be used for planning purposes only. Always confirm current prices and consider a contingency fund for unexpected expenses. Exchange rates between Philippine Peso and British Pounds will also affect your budget.
How long can Filipinos stay in the UK?
Visitor visas allow Filipinos a stay of up to 180 days per visit in the UK.
For spouse, student, and work visas, the duration of stay aligns with the visa validity.
Extensions for these visas are possible by fulfilling leave to remain (LTR) requirements.
Routes like Skilled Worker and Innovator visas may lead to Indefinite Leave to Remain (ILR), which can further lead to naturalization and British citizenship.
Get Expert Guidance for All Types of UK Visa and Immigration Applications, Reapplications, Refusals, and Appeals.
2. Tourist Visa UK from Philippines 2023
Can Filipino Travel to UK Without Visa?
---
Filipinos are required to apply for a visa to travel to the United Kingdom. The only exception to this rule is for those holding dual citizenship with visa-exempt countries such as the USA, Australia, New Zealand, or the EU Member States.
UK Visitor Visa for Filipinos
The standard visitor visa is a versatile option that allows Filipinos to engage in tourism, family visits, business-related activities, and even short-term studies. Before applying, it's important to be familiar with the eligibility criteria.
Essential Criteria: UK Visitor Visa from Philippines
The UK immigration authorities examine multiple aspects such as the clarity of the visit purpose, financial stability, accommodation plans, and compelling evidence of intended departure back to Philippines.
For the year ending September 2022, out of 31,421 visa applications from Filipinos, 23,594 were granted, while 4,623 were rejected. The success and refusal rates stood at 82.80% and 16.22%, respectively.
UK Visa Fee Philippines for Visitors
In 2023, the UK visa application fees from Philippines are categorized as follows: US$129 for a 6-month visa, US$484 for a 2-year visa, US$862 for a 5-year visa, and US$1,077 for a 10-year visa. All these visa categories limit your stay to a maximum of 180 days per visit.
The standard visitor visa processing time is approximately three weeks. However, applicants can opt for expedited services. A one-week priority service is available at a charge of US$322, and the next working day super priority service is priced at US$1,231.
Tourist Visa to UK from Philippines
Application Process
Applying for a UK tourist visa entails a multi-step process that starts with filling out the online application form. Payment of the visa fee (US$129) and submission of biometric data at a visa application center are the subsequent steps. Filipino nationals must also provide certain supporting documents.
Required Documentation for Tourist Visa to UK from Philippines
Proof of intent to return to Philippines, backed by employment contracts or educational enrollments
Bank statements showing sufficient funds for the duration of the stay
A detailed travel itinerary and proof of accommodation, such as hotel reservations
Show Money for UK Tourist Visa from Philippines
Applicants must demonstrate adequate funds, typically between GBP 3,000-5,000, to cover all travel, accommodation, and living expenses during their UK stay.
The required amount increases with the number of travelers. For example, a single traveler might need a bank balance exceeding GBP 3,000 for a one-week trip costing an estimated GBP 1,800.
Can My Filipina Girlfriend Visit Me in the UK?
Your Filipina girlfriend would require a Standard UK Visitor Visa. The process includes an online application, visa fee payment, and an appointment for biometric data and document submission.
London Visa Requirements for Filipino Citizens
If your trip is specifically to London, the standard visitor visa will suffice. The application process is similar and involves online form submission, document verification, and biometric data collection.
UK Visa Fees for Child under 5
UK child visitor visa fees for children under 5 are US$129 for 6 months and range up to US$1,077 for a 10-year visa. These fees are not waived for young children..
Other UK Visitor Visas from Philippines
Marriage Visitor Visa: If you intend to marry or register a civil partnership in the UK, the Marriage Visitor Visa is your go-to option. UK Visa Fee Philippines 2023: US$129. Duration: Up to 180 days.
Private Medical Treatment Visa: Should you be traveling to the UK for private medical treatment lasting between 6 and 11 months, you'll need to apply for a Medical Treatment Visitor Visa. UK Visa Fee Philippines 2023: US$257. Note: Attendants must apply as visitors.
Visiting Academics: Filipino academic professionals planning to engage in research or educational exchange can opt for a 12-month Academic Visit Visa. UK Visa Fee Philippines 2023: US$257.
Permitted Paid Engagement (PPE): For specific short-term paid tasks like lecturing or assessing, the PPE visa is available for up to 30 days. UK Visa Fee Philippines 2023: US$129.
Parent of Child Student Visa: For parents whose children are enrolled in fee-paying day schools in the UK, a 12-month Parent of Child Student Visa is available. UK Visa Fee Philippines 2023: US$684.
Transit Visas: For brief transits through the UK en route to another country, a transit visa is needed. Airside Transit Fee: US$45; Visitor in Transit: US$82.
Note: Holding a standard, marriage, or medical visitor visa negates the need for a separate transit visa.
3. Study in UK from Philippines 2023
UK Student Visa Requirements Philippines
---
The UK Student Visa permits Filipinos to pursue a range of educational opportunities in the UK, from higher education to Student Union roles.
Key Requirements: Student Visa UK for Filipinos
For a successful UK Student Visa application, Filipinos must satisfy specific criteria. These include a Confirmation of Acceptance for Studies (CAS) from a UK institution and proof of English language proficiency, commonly through an IELTS exam. Financial solvency for tuition and living costs is also mandatory.
Different visa types like Child Student Visa and Short-term (English Language) Visa have distinct requirements. Adherence to the rules for each visa type is crucial.
In the year ending September 2022, 595 Filipinos applied for UK student visas. With 558 approvals and 26 rejections, the success rate stood at 94.26%.
UK Student Visa Fees for Filipinos
The standard UK Student Visa fee is US$467, with a processing time of around 3 weeks. Expedited service is available for an additional US$322.
All students must also pay the Immigration Health Charge (IHS) at £624 annually.
Short-term English Language Visa
The short-term study visa is designed for Filipinos studying English in the UK for 6-11 months, costing US$257. A 6-month course costs US$129.
Work Rights for Filipino Students
Post-Study Work Opportunities
Filipino graduates can avail a 2-year post-study work visa. PhD holders can get a 3-year visa.
4. Family Visas for Filipinos 2023
Requirements for UK Spouse Visa from Philippines
---
The family route is for those Filipinos who can apply for a UK visa because of their relationship to a person settled in the UK or a British citizen. This includes spouse settlement visa, adult dependant relative, parent of a British Child visa etc.
Key Criteria: UK Family Visa for Filipinos
Applicants must satisfy essential requirements, such as a genuine relationship with a UK resident, financial stability, and English language proficiency. An Immigration Health Surcharge (IHS) is also mandatory for all applicants.
Family Visa Statistics
For the year ending September 2022, 1,659 Filipinos applied for UK family settlement visas; 980 were granted, and 132 were rejected, resulting in an 86.96% success rate and an 11.71% refusal rate.
Spouse or Partner Visa UK for Filipinos
Criteria: Applicants must follow the Appendix FM of the Immigration Rules. UK Spouse Visa Requirements include proving a genuine relationship, financial stability, secure housing, and English proficiency.
Duration & Progression: The visa is initially granted for 33 months and can be extended after 30 months. Applicants can seek Indefinite Leave to Remain (ILR) after 5 years, provided they continuously meet all conditions. An exceptional 10-year route to settlement is possible if specific criteria like financial stability or English proficiency aren't fulfilled.
Fees: The base UK visa fee Philippines for spouse applications is US$1,980. For expedited 6-week processing, an additional fee of US$738 is required, totaling US$2,718.
Other Family Visas:
Fiancé(e) Visa: For Filipinos planning to marry or engage in a civil partnership in the UK. The visa lasts 6 months. After marrying or forming the partnership, they can switch to a spouse or civil partner visa. UK Visa Fee Philippines 2023: US$1,980.
Parent of a British Child: For Filipinos with sole guardianship of a British child. UK Visa Fee Philippines 2023: US$1,980.
Adult Dependent Relative: For Filipinos needing extended care from a UK relative. UK Visa Fee Philippines 2023: US$4,184.
Returning Residents: Filipinos who were previously settled in the UK and wish to return. UK Visa Fee Philippines 2023: US$684.
5. UK Work Visa for Filipino 2023
How to Get Working Visa in UK from Philippines?
---
The primary route for Filipinos seeking UK employment is through the Skilled Worker Visa. Other options include visas like Innovator, Startup, Global Business Mobility, and Health and Care Worker.
Essential Criteria: UK Work Visa for Filipino
To secure a UK work visa, Filipinos need to meet varying requirements based on the type of work visa they are applying for.
For most employment-based visas like the Skilled Worker visa, obtaining a job offer from a UK employer registered with the Home Office is crucial. The employer then provides a Certificate of Sponsorship (CoS). Additional standard prerequisites include passing an English language test and providing evidence of adequate financial resources. However, for business-oriented visas such as the Innovator Founder Visa, a job offer is not required; instead, applicants must secure an endorsement from an approved endorsing body and present a viable business plan. Regardless of the visa type, demonstrating a genuine intention to work or conduct business in the UK is essential.
In the year ending September 2022, a total of 26,463 Filipinos applied for a UK work visa. Of these, 24,857 were granted, and 1,097 were rejected, resulting in success and refusal rates of 95.22% and 4.20%, respectively.
Skilled Worker Visa
Filipinos can work in the UK under the Skilled Worker Visa. This visa is for those sponsored by a licensed Home Office sponsor for specific skilled roles. It offers a path to permanent UK settlement. The cost of the UK work visa for Filipino in 2023 stands at US$805 for up to three years and US$1,590 for longer durations.
Skilled Worker (Shortage Occupation) Visa
This is a specialized category of the Skilled Worker Visa with reduced fees. The cost is US$617 for up to three years and US$1,214 for durations longer than three years.
Health and Care Work Visa
This visa is specifically designed for qualified doctors, nurses, or allied health professionals from the Philippines who are sponsored by a licensed Home Office sponsor. It also provides a route to permanent UK settlement. The UK Work Visa for Filipino cost for this category in 2023 is US$318 for up to three years and US$617 for more extended periods.
Global Business Mobility Visa
A brief overview of UK work visas available for Filipinos under the Global Business Mobility category, along with their 2023 fees.
Quick Guide to Other Work and Business Visas:
Below is a brief overview of various UK visa categories along with their associated fees for Filipinos looking to work or do business in the UK.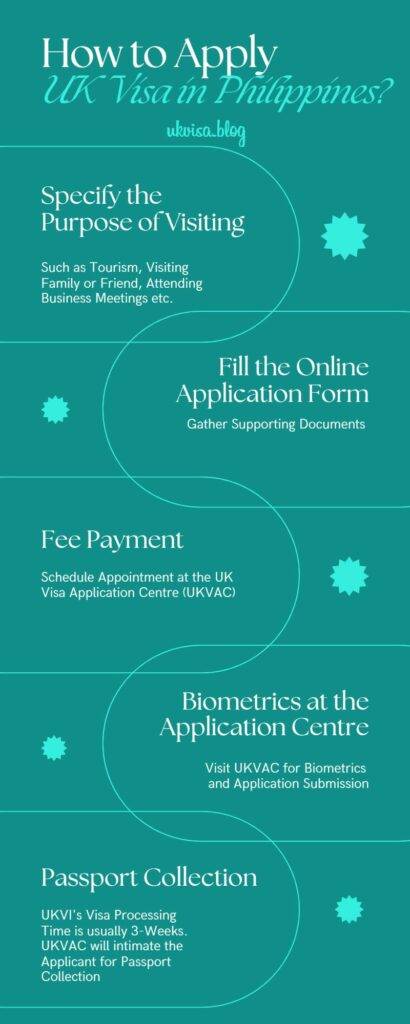 6. How to Apply for UK Visa from Philippines?
UK Visa Application from Philippines
---
A comprehensive guide tailored for Filipinos outlining the steps to apply for a UK visa. Follow this guide from determining your visa type to getting ready for your UK trip. Note: The estimated cost is based on a UK visitor visa, and priority service could shorten the process to 15 working days from 30.
Total Time: 30 days
Step 1: Determine the Visa Type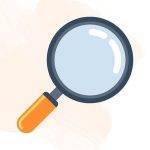 Firstly, ascertain the specific visa category that aligns with your reason for traveling from the Philippines to the UK.
Step 2: Create an Online Account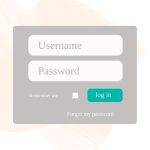 Proceed to the official UK government website focused on visas and immigration. Register an account on the UK Visas and Immigration platform.
Step 3: Fill Out the Application Form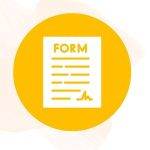 Complete the relevant online application form, making sure that all details align with your supporting documents.
Step 4: Pay the Application Fee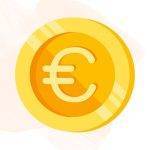 Once you've completed the form, the system will navigate you to the online payment gateway to finalize your application fee.
Step 5: Assemble Your Supporting Documents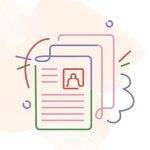 Depending on the type of visa, collect key documents such as your Philippine passport, proof of financial status, and UK accommodation details.
Step 6: Schedule a VAC Appointment in the Philippines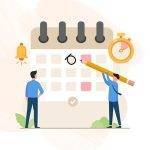 Filipinos are not qualified to use the Immigration App for identity verification. As a result, it's vital to book an appointment at a UK Visa Application Centre (UKVAC) in the Philippines.
Step 7: Attend the VAC Appointment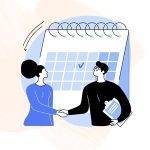 Arrive at the Visa Application Centre with all your supporting documents and undergo the biometric verification as per your appointment guidelines.
Step 8: Await Visa Decision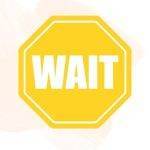 Post-submission, your application enters the processing stage. You will be informed once the decision is made.
Step 9: Passport Collection or Delivery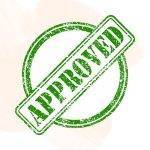 You can either collect your passport with the visa from the VAC or opt for a courier service for delivery.
Step 10: Prepare for Your UK Journey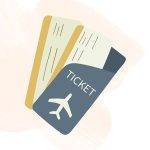 With your visa secured, plan your UK travel and familiarize yourself with the terms of your visa.
Estimated Cost: 129 USD
Supply:
Application form
Valid Philippine Passport
Recent passport-sized photos
Invitation letter (if applicable)
Payment for visa fee in USD
Proof of UK accommodation
Tools:
Internet access
Philippine Passport
Financial documents
Materials: Photocopies of original documents, Printed application confirmation, Postal envelope (if mailing documents)
VFS Global Services Philippines Private Inc.
Manila: Mezzanine Floor Unit M01, Ecoplaza Building, 2305 Chino Roces Avenue Extension Makati City, Metro Manila 1231
For further details please refer to find a visa application centre.
7. VFS Document Checklist UK Visa
UK Visa Supporting Documents Checklist from Philippines
---
Primary Documentation
Valid Passport: Must be valid for the duration of your UK stay.
Application Form: Completed on the UK Visas and Immigration portal.
Proof of Accommodation: Details of your UK stay.
Financial Proof: Evidence of financial capability.
Travel Itinerary: Outline of travel plans.
Proof of Ties to Philippines: To show intent to return.
English Language Proficiency: When required, generally via an accredited test.
Note: The list outlines essential primary documents for all UK visa categories. Check specific guidelines for additional requirements based on your visa type.
Documentation Based on Visa Type
Work Visas: Includes employment offer and Certificate of Sponsorship.
Study Visas: Requires Confirmation of Acceptance for Studies (CAS).
Family Visas: Requires relationship proofs.
Tourist Visas: Additional trip details may be necessary.
For UK-Based Sponsors
Providing documents from a UK sponsor can enhance your visa application, particularly for sponsorship-required visas like family or work visas.
Letter of Invitation
Sponsor's Immigration Status
Financial Documents
Accommodation Proof
Relationship Evidence
Remember: Sponsor documents are supplementary; meeting the primary visa criteria is crucial.
8. FAQs
UK Visa Requirements Philippines 2023
---
How to Pay for UK Visa Fee in the Philippines?
Applicants must pay the online application fee in US Dollars. Payments can be made via debit or credit card after completing the application form.
When is the UK Visa Approved for Filipinos?
Approval or refusal of UK visas for Filipinos is communicated upon passport collection.
How to Track UK Visa Application in the Philippines?
Tracking a UK visa application after biometrics is currently not available for Filipinos. For status inquiries, contact UKVI via phone or email.
Is Work Allowed on a UK Visiting Visa for Filipinos?
Work is not permitted for Filipinos on a UK visitor visa. Breaching these conditions could lead to visa cancellation and a re-entry ban.
What if a UK Visit Visa is Refused for Filipinos?
Can a Filipino Work in the UK?
Yes, Filipinos can work in the UK provided they obtain the appropriate work visa, such as a Skilled Worker Visa, Innovator Founder Visa, or Health and Care Worker Visa, among others.
How Much Does It Cost to Bring Someone from the Philippines?
The cost can vary widely depending on the visa type, sponsorship requirements, and other associated fees. Fees can range from a few hundred to several thousand US dollars.
How Much Does a London Visa Cost?
The cost of a visa to London specifically is not separated from a general UK visa. Fees range depending on the type of visa, from around US$129 for a tourist visa to US$2,109 for an Investor Visa.
How Long Is the COS Letter UK Processing Time?
The Certificate of Sponsorship (COS) is an essential part of the UK work visa application but is not the visa itself. The processing time for a COS letter varies and usually depends on the sponsoring company. It can range from a few days to a couple of weeks. It is advised to check with your prospective employer for specific timelines.
Can My Aunt Sponsor Me for UK?
Generally, aunts are not recognized as immediate family members for the purpose of UK sponsorship. However, in exceptional cases that involve compelling and compassionate circumstances, sponsorship by an aunt may be considered. Such sponsorship is more commonly seen for visitor visas for tourism and sightseeing rather than for long-term settlement. Each case is evaluated individually, and it is advisable to consult with immigration experts for specific advice.