Navigating the intricacies of the Senior or Specialist Worker Visa UK can be daunting for many aspiring professionals. Whether you're a seasoned expert or a niche specialist, understanding this visa's specifics is crucial for a successful application. In this guide, we'll delve deep into every facet, from application processes to potential transition pathways, ensuring you're equipped with the knowledge to move forward confidently.
Table of Contents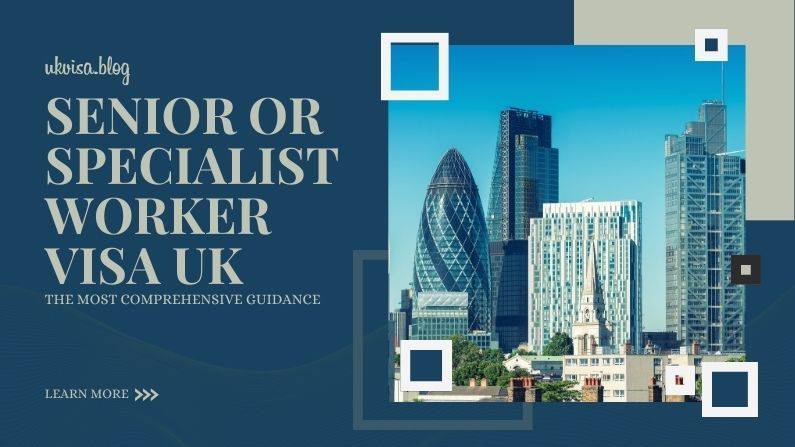 1. Introduction
---
The UK's Global Business Mobility (GBM) visa is an umbrella framework that encompasses diverse sponsored immigration routes tailored for overseas businesses. A key component of this framework is the Senior or Specialist Worker Visa UK. This specific visa caters to senior managers and specialist employees embarking on a temporary work assignment in the UK, facilitated through a relationship between their overseas employer and a UK business affiliate.
It's pivotal to note that while this visa does not offer a direct path to UK settlement, opportunities do exist for applicants to transition into other immigration routes leading to settlement. Additionally, the visa's inclusivity extends to partners and dependent children accompanying the primary visa holder. Acting as a successor, this visa category has evolved from and replaced the UK ICT visa, once a popular choice for intra-company transfers.
Diving Deeper: The Evolution of the Senior or Specialist Worker Visa
Introduced on 11 April 2022, the Senior or Specialist Worker Visa UK came into effect as part of the UK's GBM visa system. It took over from the Intra-Company Transfer (ICT) visa, which was a staple in the UK's points-based immigration system. Although applications via the ICT route have ceased, existing ICT visa holders remain unaffected, and their visa status will run its course until the predetermined expiry date.
2. Senior or Specialist Worker Visa UK in a Nutshell
---
Eligibility Criteria For Senior Or Specialist Worker Visa UK:
Must be 18 years or older.
Employment with an overseas business linked to a UK sponsor via common ownership, control, or a joint venture is necessary.
At least 12 months of overseas work experience is required unless earning £73,900 or more annually.
A valid Certificate of Sponsorship from a UK sponsor is essential.
The UK job role should be genuine and at RQF Level 6 (graduate equivalent) or above.
Salary must meet a minimum of £45,800 or match the 'going rate' for the role, whichever is higher.
Key Requirements Of Senior Or Specialist Worker Visa UK:
Overseas Work: 12 months outside the UK unless a high earner.
Certificate of Sponsorship (CoS): Provided by an A-rated employer on the Home Office's list.
Genuine Job: Not fabricated primarily for visa purposes.
Salary: Must meet the general threshold and the job's 'going rate'.
Skills Charge: Employer's payment of the Immigration Skills Charge is essential.
Financial Requirement: Applicants need £1,270 in cash, held for a minimum of 28 days unless exempted.
English Language: Not necessary for this visa category.
Additional Information:
Switching from specific visa categories is possible.
Visa duration extends up to 5 years, with potential extensions based on salary.
Allows work, study, and voluntary activities, but no access to public funds.
No direct route to settlement, but switching to other pathways is an option.
Eligible partners and children can accompany the visa holder.
For Businesses:
Open to all businesses having overseas trade connections and affiliations with a UK entity.
Must maintain a UK presence, be associated with an overseas entity, and uphold specific sponsor duties.
Professional legal consultation is recommended for detailed insights, guidance, and assistance.
Get Expert Guidance for All Types of UK Visa and Immigration Applications, Reapplications, Refusals, and Appeals.
3. Permissions under the GBM Senior or Specialist Worker Visa UK
---
Holders of the GBM Senior or Specialist Worker Visa UK are permitted to arrive and undertake the specific job role they are sponsored for, which typically spans the job's duration plus an additional 14 days. While the visa primarily caters to overseas professionals on temporary UK assignments, there's flexibility. Extensions are available from within the UK if Global Business Mobility criteria are met. Those on ICT visas can transition and extend their stay following GBM rules.
Stay duration correlates with the salary. Those earning below £73,900 annually can stay up to 5 years within a 6-year period, combining both GBM and ICT routes. In contrast, those earning above £73,900 can reside for up to 9 years within a 10-year frame.
However, the GBM Senior or Specialist Worker Visa doesn't provide a direct path to UK settlement. But switching to other routes, like the Skilled Worker route, remains a possibility for those seeking long-term UK residence.
4. Sponsoring a Senior or Specialist Worker in the UK
---
For a UK enterprise to sponsor a Senior or Specialist Worker, obtaining the Sponsor Licence from UK Visas and Immigration (UKVI) is vital. This ensures lawful employment of the transferring staff. After achieving UKVI approval, a valid Certificate of Sponsorship (CoS) must be issued to facilitate their visa application.
Qualifications for Sponsor Licence:
The UK entity should be genuinely operational and have ties through shared ownership/control or a joint venture with a foreign company.
Connections can be established through mutual ownership or joint ventures, with UKVI needing assurance regarding the worker's role.
Sponsors must provide genuine employment that aligns with the visa's skill and salary requirements.
Given the intricacies of this process, seeking specialist advice is recommended for a successful UKVI application.
5. Eligibility for the GBM Senior or Specialist Worker UK Visa
---
This visa aims to bring senior or specialist staff to the UK for short work assignments, sponsored by a Home Office-endorsed UK entity linked to their overseas employer. The visa will be granted for a period reflecting the work assignment, bound by specific rules.
Defining Eligibility Standards:
Maintain an active role with the international employer, and meet any overseas tenure requirements.
Engage in a job recognized by UKVI.
Earn at least the minimum wage related to their role.
Show financial stability upon arrival in the UK.
For certain countries, a valid tuberculosis test result is required.
Financial stability, not language proficiency, is emphasized. Applicants with under a year of UK residency should have savings of at least £1,270, ensuring they won't rely on public funds. Alternatively, sponsors can support the applicant's sustenance via their CoS for the first month.
For a GBM Senior or Specialist Worker Visa, applicants need 60 points across three categories: sponsorship (20 points), job competency (20 points), and appropriate salary (20 points).
6. Senior or Specialist Worker Visa UK: Point Requirements
---
To be successful in obtaining the GBM Senior or Specialist Worker Visa, visa aspirants must meet specific points requirements:
Earning Points For Sponsorship:

A valid Certificate of Sponsorship (CoS) tailored for the desired role is a must. This CoS should include the applicant's identity, designation as a senior or specialist worker, relevant job details, salary information, a proposed job start date within three months of the application, and, unless classified as a high earner, affirmation of meeting the overseas work requirement.
The sponsoring entity in the UK must have official accreditation by the Home Office to endorse a senior or specialist worker. Also, the Immigration Skills Charge should be fully paid.
At the application time, the applicant must be working for the sponsoring company. A year-long employment with the employer outside the UK is mandatory unless the candidate is a high-income earner. The Home Office will verify the genuineness of the UK job offer.

Acquiring Points Via Job Skill Level:

The applicant should be nominated for a role that meets the skill requirements of a GBM senior or specialist worker. The role must correspond with the Appendix Skilled Occupations in the UK's Immigration Rules, suitable for Global Business Mobility pathways.
The Home Office will validate the accuracy of the occupation code chosen by the sponsor based on the genuine job requirements, the applicant's skills, and the sponsor's immigration compliance history.

Salient Points Via Salary Threshold:

The proposed salary should either meet the basic salary limit of £45,800 or the specific 'going rate' for the profession, depending on which is higher. The Home Office website lists annual rates for each occupation. For instance, a marketing and sales director (code 1132) has a 'going rate' of £54,900, while a human resource manager (code 1135) has a rate of £36,400.
7. Certificate of Sponsorship & Dependent Rules
---
What is CoS?

A Certificate of Sponsorship (CoS) is central to any senior or specialist worker visa application. Though an electronic record and not a physical document, it's crucial. It provides detailed information about the role the person is expected to fill in the UK. The visa application must be submitted within three months of receiving the CoS.

Importance of CoS:

Securing a CoS relies on a sponsor having a senior or specialist sponsor license and access to the Home Office sponsorship management system (SMS). Before assigning a CoS, sponsors must ensure the worker complies with immigration rules.

Rules for Dependents:

GBM senior or specialist workers can be accompanied by partners and dependent children with certain criteria:

Unmarried Partner: Must have lived together for at least two years in a relationship akin to marriage. Prior relationships should be ended, and the couple should not be closely related by UK standards. The intention to live together during the visa duration is essential.
Dependent Children: Must be directly related to a parent who is or will be on the GBM senior or specialist worker pathway. There are additional conditions that need to be met, especially for children aged 16 and above.

Financial Requirements For Dependents:

The following funds are required:

Partners: £285
First Child: £315
Subsequent Children: £200 each

Employers can vouch for dependents, confirming they'll cater for their needs in their first month in the UK.
8. Financial Aspects of the GBM Visa
---
Navigating the financial terrain of the GBM visa is vital. Here's a breakdown of the costs from the perspectives of the applicant and the sponsor:
Costs For The Applicant:

Visa Application Fee: From overseas, a visa up to 3 years costs £625. A visa exceeding 3 years is £1,235.
Immigration Health Surcharge (IHS): This £624 annual surcharge offers visa holders access to the National Health Service (NHS). For a 3-year stay, this totals £1,872.

Costs For Sponsors:

Sponsor Licence Fee: Small or charitable sponsors pay £536. Medium to large sponsors pay £1,476.
Certificate of Sponsorship (CoS) Fee: Each CoS comes with a fee of £199.
Immigration Skills Charge (ISC): Fees vary based on the sponsor's size and the visa duration. Small sponsors pay £364 for the first year and £182 for every 6-month extension. Larger entities pay £1,000 for the first year and £500 for every subsequent 6 months.
Understanding the financial intricacies ensures a transparent process. By grasping these costs, businesses and professionals can plan effectively, ensuring a smooth transition and beneficial collaboration in the UK.
9. Switching to the GBM Visa from Within the UK
---
In the ever-changing landscape of global business, the ability to adapt and switch visa categories without leaving the UK is a distinct advantage. Here, we demystify the process of transitioning to the GBM senior or specialist worker visa.
Possibility of Switching: Professionals residing in the UK under different visa types might find the GBM visa as a beneficial shift, given the nation's progressive immigration policies. However, there are specific conditions to this flexibility.
Exceptions to the Rule: The transition isn't available for everyone. Individuals on the following visas cannot switch to GBM:

Standard or other types of visitors.
Short-term students.
Parents of child students.
Temporary seasonal workers.
Domestic workers in private households.
Individuals residing outside of standard Immigration Rules.

Key Requirements for Switching: Switching is about more than intent; it hinges on eligibility. Aspirants must:

Align with GBM's job criteria, including role, responsibilities, and qualifications.
Secure a valid Certificate of Sponsorship (CoS).
Meet the Overseas Work Stipulation: Even those in the UK must show 12 non-consecutive months of overseas work for the same business.
Switching to the GBM visa from within the UK showcases adaptability and long-term planning. However, understanding its subtleties is crucial to ensuring alignment with regulations and a fulfilling UK experience.
10. Duration & Extensions: Making the Most of Your Stay
---
The UK's GBM senior or specialist worker visa aims to accommodate the diverse needs of global professionals, offering a blend of stability and flexibility. Here's a closer look at the visa's duration, extensions, and associated guidelines.
Initial Duration: The visa duration corresponds to the employment period indicated on the Certificate of Sponsorship (CoS). However, there's a cap:

The maximum allowed is the lesser of either 14 days after the job's end date on the CoS or 5 years from its commencement.

Cumulative Stay and Exceptions: The UK has limitations on the total time one can reside under this visa:

A senior or specialist worker is typically allowed up to 5 years within a 6-year window.
High-income professionals earning £73,900 or more annually can stay up to 9 years within a decade.

Extension Possibilities: While the GBM visa is temporary by design, extensions are available if the job nature necessitates a longer stay, provided visa criteria are consistently met. Still, extensions adhere to the cumulative stay guidelines.
Pathway to Permanence? The GBM visa offers a potential bridge to those aspiring for UK permanent residency. To secure this permanence, a transition to the skilled worker route is vital.
In essence, the GBM visa is flexible, evolving with the shifting requirements of the global business environment. By comprehending its parameters, professionals can fully leverage their UK tenure, optimizing their contributions to and experiences in this international business nexus.
11. FAQs
---
The GBM Senior or Specialist Worker Visa, though invaluable, often prompts questions. We've compiled and addressed the most frequently asked questions for clarity:
What is the GBM Senior or Specialist Worker Visa?
It's a visa for senior managers or specialists undertaking a temporary UK work assignment linked to an overseas employer.
Is sponsorship essential for the GBM Visa?
Yes. Applicants require a Certificate of Sponsorship (CoS) from an authorized UK employer.
What's the GBM visa's typical processing time?
Expect a 3-week decision time when applying from abroad. In the UK, switching or extending usually takes about 8 weeks.
What determines the cost of this visa?
Cost depends on assignment duration: £625 for up to 3 years and £1,235 for longer assignments.
Can one switch from another visa type to GBM while in the UK?
Yes, though exceptions like short-term students and standard visitors apply.
Does GBM Visa lead to UK permanent residency?
The GBM visa isn't a direct route to permanent residency. That requires transitioning to the skilled worker route.
What are the GBM visa duration constraints?
It's tied to the job's end date on the CoS or a 5-year maximum from its start. Extensions are possible within certain cumulative period limits.
How is the overseas work requirement factored in?
The 12-month overseas work doesn't need to be continuous; it can be accumulated during continuous work for a qualifying business.
12: Conclusion
---
In today's globalized world, the GBM Senior or Specialist Worker Visa highlights the UK's commitment to international business collaboration. It serves as a bridge, connecting global talent to the UK's vibrant professional environment.
For businesses, this visa brings global expertise to their doorstep. For professionals, it offers a unique chance to immerse in the UK's rich professional culture and elevate their careers.
Despite its advantages, navigating the visa's regulations can be challenging. However, equipped with knowledge and proper guidance, this challenge is surmountable. As business horizons expand, let the GBM Senior or Specialist Worker Visa guide your next professional adventure in the UK.
---