Navigating the world of UK visas can be intricate, but the "UK Graduate Trainee Visa" stands out as a pivotal route for aspiring global professionals. As part of the Global Business Mobility (GBM) initiative, this visa offers a bridge for overseas graduates to embark on training programmes in the UK, setting them on a path to senior roles. In this guide, we'll delve deep into the nuances of the visa, ensuring applicants are well-prepared for their journey to the UK.
Table of Contents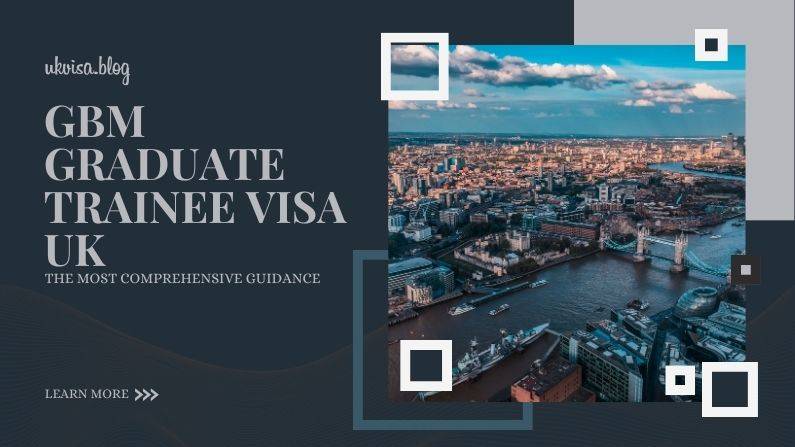 1. Introduction: Navigating the World of the UK Graduate Trainee Visa
---
The UK Graduate Trainee visa is a beacon for global graduate trainees yearning to undertake a training programme within a UK branch or subsidiary of their multinational employer. Crafted under the recently rolled-out Global Business Mobility (GBM) initiative, this visa is specifically tailored to cater to such professionals.
UK Graduate Trainee Visa: A Snapshot
About the GBM Immigration Routes: This visa is one of the five pioneering GBM immigration pathways, designed primarily for international businesses eager to strengthen their UK foothold or strategize employee transfers.
Purpose: It aims to enable overseas professionals participating in structured graduate programmes, nurturing them for senior or specialist roles. A core feature of these programmes is a UK work placement.
Transitioning from Old to New: This modern avenue replaces the erstwhile Intra-Company Graduate Trainee route, offering a revamped framework for trainees.
Rights & Constraints with the Graduate Trainee Visa:
Primary Goal: Visa holders get the chance to immerse in the UK's designated graduate training environment.
Work Limitations: Unlike the former Intra-Company scheme which allowed additional jobs, the GBM route is strict. Trainees can only stick to their principal sponsored role.
Additional Ventures: While other employment opportunities are restricted, trainees can volunteer or take up academic courses during their UK stint. They also enjoy the liberty to travel abroad and return to the UK during their visa's validity.
In summary, the UK Graduate Trainee visa mirrors the UK's pledge to nurture international talent, offering structured learning paths for global graduates while maintaining certain protocols to uphold the visa's primary objective.
2. Eligibility Criteria for UK Graduate Trainee Visa
---
To be deemed eligible for the UK Graduate Trainee visa, candidates must adhere to the ensuing conditions:
Age Bracket: Applicants must be 18 years or older at the application time.
Programme Association: Prospective candidates should be part of a structured graduate programme, prepping them for a managerial or specialist role in a global enterprise with a UK work assignment.
Employment and Sponsorship Specifics:
Active employment with a Home Office-acknowledged licensed UK sponsor is essential.
Possession of a Certificate of Sponsorship (CoS) from the sponsor is mandatory.
Position and Expertise: The applicant's designated role should conform to the proficiency benchmarks outlined in the Immigration Rules.
Salary Criteria: Remuneration should either match or exceed the prescribed minimum for the specific job title.
Previous Employment Duration: Applicants must be committed to the linked foreign firm and should have worked outside the UK for at least three months before application.
Financial Prerequisites:
In general, candidates should be financially prepared to support themselves post-arrival in the UK.
A consistent balance of at least £1,270 for a consecutive 28 days in their bank account is a requisite.
Note: The financial criteria can be exempted if the sponsor commits to vouching for the candidate's sustenance via their CoS.
In essence, these stipulations are in place to ensure that UK Graduate Trainee visa recipients are authentic contenders, intent on procuring specialized expertise and equipped to thrive during their UK tenure.
Get Expert Guidance for All Types of UK Visa and Immigration Applications, Reapplications, Refusals, and Appeals.
3. Sponsorship Criteria for the UK Graduate Trainee Visa
---
For a successful UK Graduate Trainee visa acquisition, applicants must clinch sponsorship from a business endorsed by the Home Office for this worker category.
Key Sponsorship Components:
Business Association: A sponsoring business, within the Global Business Mobility framework, should:

Fall under the same ownership/control as a foreign entity or
Have a joint venture with an overseas business.

Structured Training Proof: The related foreign firm must offer a systematic graduate training program geared towards nurturing prospects for senior managerial/specialist roles. This should include a genuine UK work placement. Documentation, like relevant brochures or recruitment data, should be available.
Transitional Provisions: For sponsors earlier associated with the Intra-Company Graduate Trainee route:

A distinct application for a sponsorship license might not always be required.
If post-1 December 2020, a UK sponsor applied for a CoS for the previous route, the new route should integrate effortlessly with their existing license.

CoS Issuance: A CoS can only be provided by a UK sponsor possessing a valid license. Any updates to existing licenses will see the CoS allocation for this route reflecting allocations made for the Intra-Company pathways as of 10 April 2022, with a maximum of 20 certificates. However, new licenses don't have an annual CoS limit.
In summary, it's pivotal for sponsors to familiarize themselves with the necessary rules, ensuring they present apt evidence and align with the Graduate Trainee Visa guidelines.
4. Point System for UK Graduate Trainee Visa Application
---
Applying for a UK Graduate Trainee visa under the GBM requires amassing a set number of points. Specifically, 60 points across three primary criteria:
Sponsorship (20 Points):

Applicants should hold a valid CoS designed for the Graduate Trainee route.
The sponsorship should represent genuine employment.
The role must adhere to overseas work standards, suggesting a consistent 3-month work period for the relevant foreign business prior to application. Note: UK work stints aren't considered.

Job Skill Level (20 Points):

The sponsored role should match a skill level of 6 or above, equating to the graduate level, as set by the Regulated Qualifications Framework for England and Northern Ireland or equivalent frameworks elsewhere in the UK.

Salary Benchmark (20 Points):

A yearly wage of at least £23,100 is essential, marking a minor increment from the previous £23,000.
Alternatively, the salary should equate or exceed the average rate for that job role.
Note: Any deviation from these salary norms can lead to visa denial, and post-approval discrepancies can jeopardize both the visa and the sponsor's license.
In essence, achieving the obligatory 60 points is crucial. However, satisfying other non-point-based criteria, such as financial requirements, is equally important for a successful visa application.
5. Guide to Applying for the UK Graduate Trainee Visa
---
Overseas graduates aiming for UK training can leverage the UK Graduate Trainee visa. Here's a concise application guide:
Online Application: Apply online using the reference number on the Certificate of Sponsorship (CoS). Start no earlier than three months before your job's start date.
Identity Verification: Applicants may need to schedule an appointment for verification. Typically, fingerprints and a photograph are required.
Essential Documents:

Valid passport or travel document.
Confirmation of 3-month work experience with the overseas employer.
Training program details.
Proof of personal savings (if required).
TB test results (from certain countries).

Decision Period: Decisions usually come within three weeks. For quicker decisions, pay an additional fee.
Entry & Switching: Apply for entry clearance. Direct switches from other visas aren't allowed due to the 3-month overseas work criterion.
Fees:

Application: £259
Immigration Health Surcharge: Typically £624/year.

Visa Duration & Restrictions:

Valid for up to one year.
Maximum of 5 years over a 6-year period across all GBM routes.

Extensions & Reapplications: Direct extensions aren't possible. Reapply outside the UK without surpassing the 5-year cap.
Job Changes: Inform the Home Office if changing roles within the sponsoring company, ensuring route requirements are still met.
Dependents:

Spouses, partners, and dependent children can join the visa-holder. Financial provisions vary, and all dependents pay an application fee and yearly health surcharge.
For the latest visa requirements, always consult an immigration adviser.
6. UK Graduate Trainee Visa: Frequently Asked Questions
---
What is the UK Graduate Trainee visa?
It's for individuals transferred to the UK by foreign employers for structured graduate training.
Is sponsorship required?
Yes. Applicants need sponsorship from a Home Office-approved employer.
What's the cost?
£259 application fee plus a £624/year health surcharge.
Visa duration?
Up to one year, but there's a 5-year limit within 6 years on GBM routes.
Can I extend my stay?
No direct extensions. Reapply from outside the UK.
Can my family join?
Yes, if they meet eligibility criteria.
Work outside the UK before applying?
Yes, for at least 3 continuous months.
Any financial proof needed?
Proof of at least £1,270 held for 28 consecutive days, unless covered by the UK sponsor.
7. Conclusion
---
The UK Graduate Trainee visa is a golden ticket for budding professionals aiming to kick-start their careers in the UK. Part of the Global Business Mobility (GBM) initiative, it showcases the UK's vision of fostering global talent and strengthening international business relationships. This visa doesn't just empower businesses to sculpt future leaders but also injects diversity into the UK's professional arena. Potential applicants must grasp the visa's nuances and stay updated on ever-evolving immigration policies. Proper planning and adherence to guidelines can make their UK dreams come true.
For further details please refer to Immigration Rules Appendix Global Business Mobility routes.