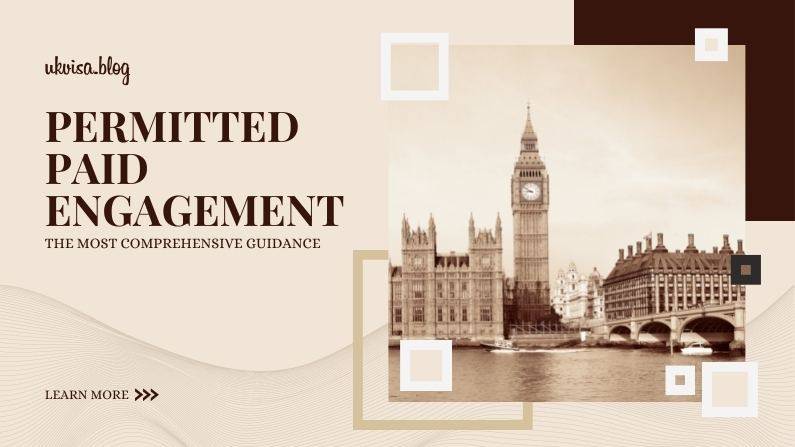 Permitted Paid Engagement (PPE) Visa UK Guidance
Except for transit visitors, all other types of visitors can undertake any permitted activity enumerated in Appendix 3 of Appendix V of the Immigration Rules. However, the permitted paid engagement (PPE) visa allows certain types of qualified and well-known professionals to undertake paid activities under Appendix 4 for up to one month in the UK.
For instance, a professional footballer can enter the UK on a PPE visitor visa for giving a paid interview (Appendix 4). And can also undertake other permitted activities (Appendix 3) such as attending meetings, negotiating an agreement, tourism etc. However, the same professional footballer cannot give a paid interview on a standard visitor visa.
Therefore, for doing a paid activity in the UK up to 30 days following types of visitors needs to apply for permitted paid engagement (PPE) visa:
visiting examiners or assessors
visiting lecturers
examiners/assessors/lecturers invited by a recognised organisation on a permitted paid engagement (PPE) visitor visa
designated air pilot examiners
qualified lawyers
arts, entertainment, and sporting professionals
Non-Visa Nationals Don't Need to Apply for PPE Visa UK
Non-visa nationals such as citizens of US, Australia, Canada don't need to apply PPE visa for permitted paid engagement in the UK. However, non-visa nationals need to bring the PPE Invitation Letter and present it to immigration authorities as a proof of seeking entry to undertake permitted paid engagement in the UK for up to 1-month. For instance, an Australian senior professor, who is visiting the UK for delivering lectures at a university, apart from the Invitation Letter also needs to bring evidence of the academic and professional standing and qualifications, such as a resume, and list of publications. Moreover, the visiting professor may also bring some evidence that they intend to continue the current employment as Professor in Australia (or elsewhere, but not in the UK) after the visit.
Enquiry Form
*What happens next?
Multilingual qualified London based immigration specialists will get back to you, usually within 2-3 working days. If you have not attached any documents, then the UK based Law firm may ask for the relevant Case-Specific Document(s) such as Refusal Letters, Deportation Orders, Application Forms etc. Moreover, after reviewing the papers and information, the legal advisor may advise a course of action and quote the fees for processing the application.
Have a wonderful day!
Documents Required for Permitted Paid Engagement (PPE) Visa UK
For PPE Visa, applicants need to provide invitation letter for permitted paid engagement in the UK and professional credentials. A generic checklist of supporting documents required for PPE visa may include:
Travel Documents such as a national passport with at-least 180 days validity period and 1-blank page on both sides
Proof of maintenance funds to cover the trip expenses such as a 6-months bank statement
Tour plans such as a trip itinerary
Accommodation in the UK
An invitation letter from the organisation paying for permitted paid engagement in the UK
Proof that the engagement relates to an applicant's professional or academic qualifications and expertise. This may include, but not limited to:

Résumé (Curriculum vitæ)
List of Publications
Awards, Achievements and Recognitions
Letter from Employer
Permitted Paid Engagement Visa for Visiting Examiner and Accessor
Quite clearly, expert examiners and assessors can apply for UP PPE visa if they have an invitation of undertaking a permitted paid activity in the UK for not more than 30 days. However, an expert examiner or assessor needs to be employed outside the UK and needs to satisfy that will return to their employment in the home country after completion of the permitted engagement in the UK.
ECO is likely to refuse entry clearance to a fully retired academic, who intends to carry out one-off examination work as permitted paid engagement does not count as a full-time occupation. However, a semi-retired professional who intends to carry out a regular examination work and earning income from this can apply for PPE Visitor Visa.
Moreover, if the proposed activities include examining at a further education establishment, then also the ECO is likely to refuse the UK PPE visa applications. In such situation, it is better if an applicant applies for a Tier 2 General Visa.
Documents Required for PPE Visa UK Examiners and Assessors
The applicant needs to have an invitation letter for the permitted paid activity in the UK. A PPE invitation letter for an Examiner/Assessor needs to mention the following details:
the reason for selecting an individual to carry out the permitted paid activity in the UK and applicant's relevant skills or expertise
the link between the permitted paid engagement and the venue
and the duration of the engagement
Moreover, evidence of employment overseas (in the home country) is an important consideration in UK PPE visa application assessment process. Therefore, an Examiner/Assessor also needs to provide evidence of relevant work experience in the field of engagement in the UK. Accordingly, the applicant may provide the details of their publications/recognitions in the field of expertise and a letter from employer elucidating the details of work and area of specialisation.
Permitted Paid Engagement Visa UK for Visiting Lecturers
In fact, a overseas lecturer can apply for a UK PPE visa. However, the lecturer needs to be employed outside the UK. In their home country or elsewhere, but certainly not in UK. Moreover, the employment may or may not be full-time as a lecturer. Therefore, visiting, or part-time lecturers can apply for UK PPE visa. However, the lecturer needs to satisfy that after completing the permitted paid engagement in the UK, they will leave the UK. And resume employment in the home country or the country of residence.
Fully or Semi-retired Lecturers applying for UK PPE Visa
A one-off lecture in the UK by a fully retired lecturer does not count as a full-time employment/occupation. Therefore, such an application for UK PPE visa is likely to refuse. However, an application by a semi-retired lecturer for carrying out regular lectures and income generation surely qualifies for UK PPE visa.
UK PPE visa application for lecturing as part of a regular course at a Higher Education Institution (HEI) is acceptable. However, the visiting lecturer should satisfy that they are not going to replace the formal course teacher at the HEI. Such a replacement falls under Tier-2 of the points-based system.
A lecturer may, usually, applies for a PPE visitor visa for lectures in the UK that relate to their area(s) of expertise. In the field of study in which the lecturer is employed overseas. However, if a lecturer is applying for delivering a lecture in an unrelated area, then needs to satisfy the following points in the UK PPE visa application:
previous employment/posts in the unrelated area
any publications on the subject
any other recognised qualifications
Documents Required for PPE Visa UK Lecturers
Quite clearly, a lecture needs to satisfy in the PPE visa application about the overseas employment in the relevant field to the proposed permitted paid engagement in the UK. Therefore, a lecturer may provide the following evidence to substantiate the UK PPE visa application:
publications of work in the relevant field of expertise
an account of the past lectures in the area of specialisation
a letter from employer to confirm work and area of expertise
Organisations Inviting Examiners, Assessors or Lecturers
Home Office recognises several publicly funded research institutions, which can extend Invitations for visiting experts such as Examiners, Assessors and Lecturers. The reorganized publicly funded organisations may include:
research organisations – including independent research organisations and Research Council Funded Institutes such as:

Arts and Humanities Research Council
Biotechnology and Biological Sciences Research Council
Economic and Social Research Council
Engineering and Physical Sciences Research Council
Medical Research Council
Natural Environment Research Council
Science and Technology Facilities Council

museums – this must be the main/primary purpose of the venue
art galleries – the main purpose of the venue should be art-exhibition and not be selling of arts and artefacts
arts centres, theatres, other arts venues, and arts festivals
Designated Air Pilot Examiner
The permitted paid engagement of an air pilot needs to relate to their expertise and professional qualifications. However, the pilot should be full-time employed as a professional overseas – preferably, as a member of their country's national/public aviation authority. For instance, the Federal Aviation Authority (FAA) in the USA.
Permitted Paid Engagement Visa for Lawyers
In a qualified lawyer, such as a counsel, solicitor, advocate, attorney, or a barrister can apply for UK PPE visa. In addition to dispute resolution and advocacy, a qualified lawyer can also take an active role in preparation of a hearing that may require one or more preparatory visits.
If the immigration officer is clear from either the invitation or other information that the case is going to last longer than one month, then may solicit clarification regarding an applicant's involvement for the entire duration. However, if an applicant's involvement is for more than one-month longer then the ECO is likely to refuse the entry clearance with a reason that the applicant is not genuinely seeking entry to the UK on a PPE visa for a duration longer than one month.
For a lawyer representing an overseas client, the permitted paid engagement should relate to a UK based hearing. However, a decision for the grant of UK PPE visa may not necessitate right of an audience for an arbitration, other hearings relating to alternative dispute resolution and certain tribunal hearings.
Documents Required for PPE Visa UK Lawyers
If an overseas lawyer is applying for PPE Visa to represent client in a UK court, then needs to provide confirmation of the lawyer's right to an audience (or 'temporary call'). Moreover, a lawyer may demonstrate qualifications by submitting a practising certificate and a certificate of good standing.
Artists, Entertainers and Sportspersons
A UK based agent, broadcaster, creative or sports organisation can invite an artist, entertainer, or a sportsperson to perform permitted paid engagement in the UK.
a creative organisation includes all types of organisations relating to arts and entertainment. For instance, art galleries, arts faculties or departments in universities, schools and venues involved in producing or staging of events
UK based agent or broadcasters can invite individuals to undertake a permitted paid engagement in the UK. However, the inviting organisation needs to be legitimate
a sports organisation includes anybody involved in organising or staging sporting events and matches
To qualify for a UK PPE visa, an artist, entertainer, or sportsperson needs to demonstrate that they:
are a full-time professional
have good standing and reputation in their profession
have existing work commitments and earnings outside the UK. However, it is quite understandable that some artists, sportspersons, and professionals earn lower salaries in certain countries.
An artists may relate to performing or creative arts. An artist may be a traditional artist, folk singer, poet, makeup artist, photographer etc. Accordingly, an artist may take part in permitted paid engagements in the UK such as:
giving lectures
judging panels
presenting/launching their work to professionals/public in the UK
public performances
professional paid conferences
taking part in panel debates
Fashion models visiting the UK for undertaking a specific paid engagement in the UK can apply for PPE visa. However, a fashion model should not intend to make UK their home.
Documents for PPE Visa UK Artists, Entertainers, Sportsperson
Certainly, a professional artist, entertainer or sportsperson needs to prove that they are a well-established professional. Accordingly, can provide additional supporting documents with the UK PPE visa application such as:
list of their publications or performances
evidence of awards
publicity material for talks, performances, screenings concerts, readings, and exhibitions
proof of recent performances
media coverage and reviews etc.
Permitted Paid Engagement (PPE) Visa UK Invitation Letter
An organisation can send an Invitation Letter to support the entry of a visitor to the UK for permitted paid engagement. For instance, if a university is inviting a professor, then can sent the Invitation Letter for UK PPE visa on the official letter head. And, if necessary, then may also add details relating to:
Reimbursement of the trip costs
Amount of payment for the permitted paid engagement in the UK
Reference to the Terms and Conditions to the Contract of PPE Services, which an organisation can draft separately.
Point person to the facilitate the visitor on UK PPE visa
Please note only visa nationals such as Indian, Chinese, Pakistani citizens need to apply for the UK PPE visa. However, non-visa nationals such as US, Canadian, Australian citizens, only need to bring the Invitation Letter for entry clearance as a PPE visitor.
Sample Invitation Letter Permitted Paid Engagement (PPE) Visa UK
Dear Professor James Moriarty,
I, Sherlock Holmes, on behalf of University for Masterminds, confirm formal invitation for you to visit us from March 23, 2020, to April 05, 2020, to deliver a short series of lectures. And to participate in Dr. Watson's research workshops. We hope that your expertise in International Crimes, especially in field of Problem Solving, will help our students and associates. Accordingly, this invitation is in recognition of your special expertise and major contribution to this area of research as Professor of The Valley of Fear at the Doyle Institute. In fact, it would be indeed quite pleasing if you would deliver lectures on the following topics:
The International Crime Scene on March 23, 2020
The Multi-talented Genius of Simon Newcomb on March 29, 2020
George Boole and the Laws of Thought on April 3, 2020
Trip Cost
Quite certainly, the University of Masterminds will reimburse your international and local travel costs. And for the cost of the local hotel accommodation at One Aldwych, London. Moreover, will remit an honorarium of £17,500/- to your bank account. Please bring this letter with you. And present it to the immigration authorities as a proof for seeking entry to the UK as a senior professional to undertake a "permitted paid engagement" for the previously mentioned period. Moreover, please also bring evidence of your academic and professional standing. And that of your qualifications, such as a resume, and list of publications. We understand you will continue in your current employment as Professor of Crimes and Criminality at the University of Yellow Asia after the proposed permitted paid engagement.
Other Details
Before booking your travel, you need to apply for a Visitor's Visa as a "Senior Professional coming to undertake a permitted paid engagement". The UK visa fee for the PPE application is £100. And the University will reimburse the application fee and that for priority service (£220) if you are successful in obtaining the visa. Please note that the visa processing time is usually within 10-15 working days and 1-week with priority service. However, at times the UK PPE visa applicant may need to wait up to 30 working days (6 weeks) to get a decision.
Point Person
Jane Austen is the point person for the proposed permitted paid engagement and is responsible for:
making arrangement for your itinerary
travel accommodation- day-to-day support
planning for lectures
processing any claims for reimbursement of fees and trip expenses
This engagement is subject to the terms and conditions for Contracts for PPE Services of the University. And for the reimbursement of fee and expenses, you need to provide an invoice with original copies of your itemized receipts of expenses. Please also mention your bank account details on the invoice.
We look forward to welcoming and spending thought provoking time with you.
Yours sincerely
Signed on behalf of the University of Masterminds
Sherlock Holmes, Head of Deductive Reasoning Department
Please sign below to confirm your acceptance of the terms and return one copy of this letter to the above address