UK Visa UAE 2023: A Comprehensive Guide for Emiratis and Residents in Dubai, Abu Dhabi, Sharjah. This guide aims to simplify the process by providing updated information on UK Visa from Dubai, UAE, including Dubai to UK visa price, UK visit visa from Dubai processing time, and UK visa requirements for UAE residents. Whether you're interested in securing a UK visa for a Dubai-based girlfriend or exploring the Electronic Visa Waiver (EVW) costing US$37, we've got you covered. Typical processing time post-biometrics is around 3 weeks.
Published On:
---
Last Updated:
Please Note: While entry clearance applications from the UAE predominantly come from foreign expatriates like Pakistanis, Indians, and Bangladeshis, the data mainly represents Emirati nationals. However, this guide's information on fees, processing times, and application procedures is valuable for both Emiratis and expatriates residing in the UAE.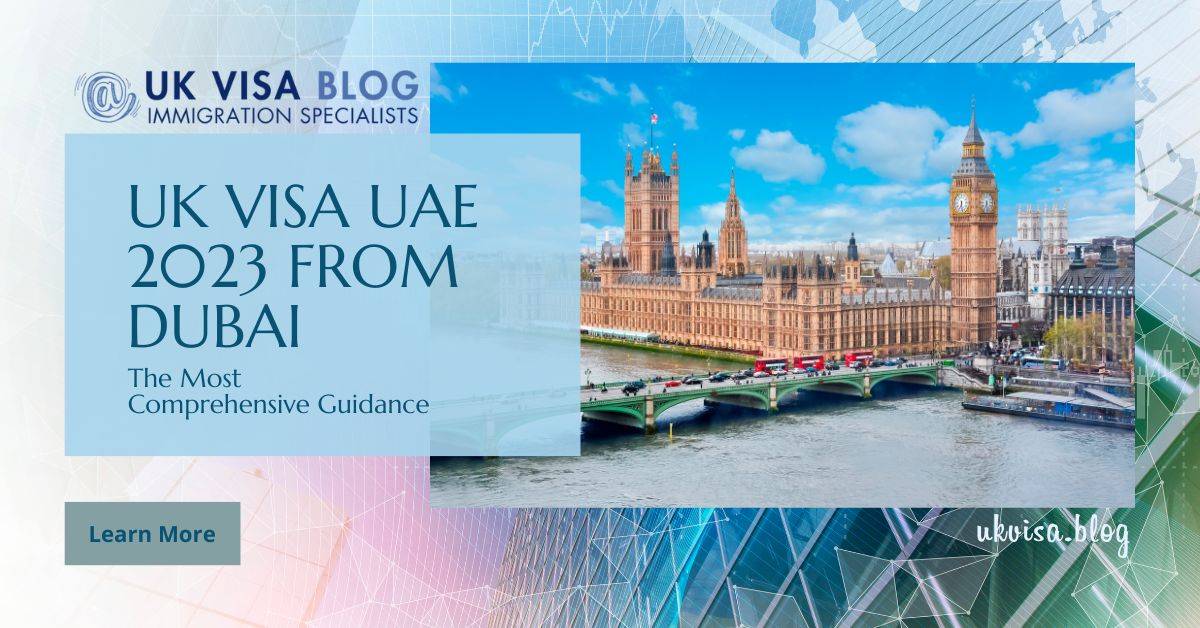 1. UK Visa from Dubai, UAE 2023
---
Emiratis planning to travel to the UK for work, study, or tourism must obtain the appropriate visa. The specific type of visa required varies depending on the purpose of the visit.
Emiratis have the option to utilize an Electronic Visa Waiver (EVW) for short visits to the UK.
Emiratis holding citizenship from non-visa-required countries—such as the USA, Australia, New Zealand, or EU nations—can visit the UK for up to six months without a visa. However, if an Emirati has Permanent Residence (PR) status in one of these countries, a UK visa is still required for entry.
Dubai to UK Visa Price
The cost of a UK visa for Dubai residents varies based on the type of visa. For example, tourist visas are priced at US$145, student visas at US$619, and spouse visas at US$2,332.
UK Visa UAE Processing Time in Dubai
In 2023, standard processing times for non-settlement visas like tourist, study, and work visas are generally around three weeks. Priority service can expedite this to five working days at an additional charge of US$632.
Settlement visas for spouses, partners, or family members have a standard processing time of up to 12 weeks post-biometrics. Priority service, which costs an additional US$632, can reduce this time to six weeks.
The super-priority service for next-day processing comes at a cost of US$1,263. However, this service is not currently available in Dubai.
Travel Expenses to UK from Dubai
The estimated budget for a trip from Dubai to the UK varies between US$1,750 and US$5,225 per person for a duration of 7 to 15 days. Couples may spend between US$3,500 and US$10,500, while families of four could incur costs ranging from US$7,000 to US$21,000.
Duration of Stay for Dubai Residents in the UK
Visitor visas allow Dubai residents to stay in the UK for up to 180 days per visit. For other visa categories like spouse, student, and work visas, the length of stay is aligned with the visa's validity. Visa extensions may be possible by fulfilling Leave to Remain (LTR) conditions. Some visas like the Skilled Worker and Innovator visas offer a pathway to Indefinite Leave to Remain (ILR), which can eventually lead to British citizenship.
---
Get Expert Guidance for All Types of UK Visa and Immigration Applications, Reapplications, Refusals, and Appeals.
---
Enquiry Form
What Happens Next?
Our multilingual, qualified London-based immigration specialists will get back to you, usually within 2-3 working days. If you have not attached any documents, the UK-based law firm may ask for relevant case-specific documents such as refusal letters, deportation orders, application forms, etc. After reviewing the documents and information, the legal advisor may suggest a course of action and quote the fees for processing the application.
Have a Wonderful Day!
---
2. UK Visit Visa from Dubai, UAE 2023
---
Dubai Residents must apply for a visa to enter the United Kingdom. The only exception is for Dubai Residents with dual citizenship from visa-exempt countries like the USA, Australia, New Zealand, or EU Member States.
Standard Visitor Visa from Dubai to UK
The standard visitor visa allows Dubai Residents to engage in various activities, including tourism, family visits, business engagements, and short-term studies. Understanding the eligibility criteria is crucial before submitting an application.
Essential Criteria: UK Visitor Visa Requirements for Dubai Residents
UK immigration authorities evaluate various aspects, including the visitor's reasons for traveling, their financial stability, and their arrangements for both accommodation and return travel.
In the year ending September 2022, a total of 2,245 Emiratis applied for a UK visitor visa. Out of the 2,310 applications resolved, 2,285 were granted, and 13 were rejected. Therefore, the UK visitor visa success and refusal rate from UAE are 98.92% and 0.56%, respectively.
Dubai to UK Visit Visa Price
In 2023, the UK visa application fees from Dubai are categorized as follows: US$145 for a 6-month visa, US$505 for a 2-year visa, US$974 for a 5-year visa, and US$1,217 for a 10-year visa. All these visa categories limit your stay to a maximum of 180 days per visit.
For UAE applicants, the usual visitor visa processing duration is about three weeks. Expedited options include a one-week priority service at US$632, and a super priority service for the next working day at US$1,263.
Tourist Visa to UK from Dubai
The application process for a UK tourist visa involves completing online application form, paying the visa fee, and submitting biometric data at a visa application center. Additional supporting documents are also required.
Required Documentation for Tourist Visa to UK from Dubai
Proof of intent to return to Dubai, supported by employment or educational commitments
Bank statements verifying adequate funds for the stay
A detailed travel itinerary and proof of accommodation, such as hotel reservations
Show Money for UK Tourist Visa for Dubai Residents
Applicants need to demonstrate adequate financial means, generally in the range of GBP 3,000 to 5,000, to ensure all costs for their UK visit are covered. The exact sum required will depend on the duration of the stay and the number of people traveling.
London Visa Requirements for Dubai Residents
Choose the standard visitor visa for targeted trips to London. This process involves completing an online application form, the verification of documents, and biometric data submission.
Other Visit Visa from Dubai to UK
Marriage Visitor Visa: If you intend to marry or register a civil partnership in the UK, the Marriage Visitor Visa is your go-to option. UK Visa for Dubai Residents Cost 2023: US$145. Duration: Up to 180 days.
Private Medical Treatment Visa: Should you be traveling to the UK for private medical treatment lasting between 6 and 11 months, you'll need to apply for a Medical Treatment Visitor Visa. UK Visa for Dubai Residents Cost 2023: US$253. Note: Attendants must apply as visitors.
Visiting Academics: Dubai academic professionals planning to engage in research or educational exchange can opt for a 12-month Academic Visit Visa. UK Visa for Dubai Residents Cost 2023: US$253.
Permitted Paid Engagement (PPE): For specific short-term paid tasks like lecturing or assessing, the PPE visa is available for up to 30 days. UK Visa for Dubai Residents Cost 2023: US$145.
Parent of Child Student Visa: For parents whose children are enrolled in fee-paying day schools in the UK, a 12-month Parent of Child Student Visa is available. UK Visa for Dubai Residents Cost 2023: US$805.
Transit Visas: For brief transits through the UK en route to another country, a transit visa is needed. Airside Transit Fee: US$44; Visitor in Transit: US$81.
3. Study Visa to UK from Dubai, UAE 2023
---
The UK Student Visa permits Dubai Residents to pursue a range of educational opportunities in the UK, from higher education to Student Union roles.
In the year ending September 2022, a total of 753 Emiratis applied for student visa UK. 767 applications resolved, 756 student visas granted to Emiratis, and 3 applications rejected. Therefore, the UK student visa success and refusal rate for Emiratis are 98.57% and 0.39%, respectively.
UK Student Visa Fee from UAE
A UK Student Visa typically costs US$619 and is processed within approximately 3 weeks. For faster processing, an additional US$632 is payable. Students are also required to pay an annual Immigration Health Charge (IHS) of £624.
Short-term English Language Visa from Dubai to UK
The short-term study visa is designed for Dubai Residents studying English in the UK for 6-11 months, costing US$253. A 6-month course costs US$145.
Work Rights for Dubai Residents Students
Post-Study Work Opportunities
Dubai Residents graduates can avail a 2-year post-study work visa. PhD holders can get a 3-year visa.
4. Family Visa to UK from Dubai, UAE 2023
---
The family route is for those Emiratis and Dubai Residents, UAE, who can apply for a UK visa because of their relationship to a person settled in the UK or a British citizen. This includes spouse settlement visa, adult dependent relative, parent of a British Child visa etc.
In the year ending September 2022, a total of 4 Emiratis applied for family settlement visa UK. 4 applications resolved, 4 family settlement visas granted to Emiratis, and no application rejected. Therefore, the UK family (spouse) settlement visa success and refusal rate from UAE is 100.00%.
Applying for a UK Spouse or Partner Visa from the UAE
Eligibility Requirements: UAE applicants need to adhere to the Appendix FM of the UK Immigration Rules. Key elements for the UK Spouse Visa encompass proving a genuine and subsisting relationship, ensuring financial stability, having secure accommodation, and demonstrating English language skills.
Visa Tenure and Extension: Initially, the spouse visa is issued for 33 months to UAE nationals and can be extended for another 30 months. After 5 years, applicants may pursue ILR under the partner route, assuming ongoing compliance with all the visa conditions. In cases where criteria such as financial stability or English proficiency are not met, a special 10-year route to settlement might be available.
Visa Application Fees: For UAE-based applicants, the standard fee for spouse visa applications is US$2,332. An optional expedited processing service, reducing the processing time to 6 weeks, involves an additional cost of US$632, making the total fee US$2,964.
Other Family Visa to UK from Dubai, UAE:
Fiancé(e) Visa: For Dubai Residents planning to marry or engage in a civil partnership in the UK. The visa lasts 6 months. After marrying or forming the partnership, they can switch to a spouse or civil partner visa. UK Visa Dubai Fees 2023: US$2,332.
Parent of a British Child: For Dubai Residents with sole guardianship of a British child. UK Visa Fees Dubai 2023: US$2,332.
Adult Dependent Relative: For Dubai Residents needing extended care from a UK relative. UK Visa Dubai Fees 2023: US$4,106.
Returning Residents: Dubai Residents who were previously settled in the UK and wish to return. UK Visa Fees Dubai 2023: US$805.
5. UK Work Visa from Dubai, UAE 2023
---
The primary route for Emiratis and Dubai Residents seeking UK employment is through the Skilled Worker Visa. Other options include visas like Innovator, Startup, Global Business Mobility, and Health and Care Worker.
In the year ending September 2022, a total of 42 Emiratis applied for work visa UK. 40 applications resolved, 39 work visas granted to Emirati nationals, and 1 application rejected. Therefore, the UK work visa success and refusal rate from UAE are 97.50% and 2.50%, respectively.
Skilled Worker Visa to UK from UAE
Dubai Residents can work in the UK under the Skilled Worker Visa. This visa is for those sponsored by a licensed Home Office sponsor for specific skilled roles. It offers a path to permanent UK settlement. The cost of the UK work visa for Dubai Residents in 2023 stands at US$908 for up to three years and US$1,794 for longer durations.
The Skilled Worker (Shortage Occupation) Visa fees from UAE is US$696 for up to three years and US$1,370 for durations longer than three years.
Health and Care Work Visa to UK from UAE
This visa is specifically designed for qualified doctors, nurses, or allied health professionals from Dubai who are sponsored by a licensed Home Office sponsor. It also provides a route to permanent UK settlement. The UK Work Visa from Dubai cost for this category in 2023 is US$359 for up to three years and US$696 for more extended periods.
Global Business Mobility Visa to UK from UAE
An overview of the UK work visas available under the Global Business Mobility category for UAE citizens and residents, including their fees for 2023.
Quick Guide to Other Work and Business Visas
Below is a brief overview of various UK visa categories along with their associated fees for Dubai Residents looking to work or do business in the UK.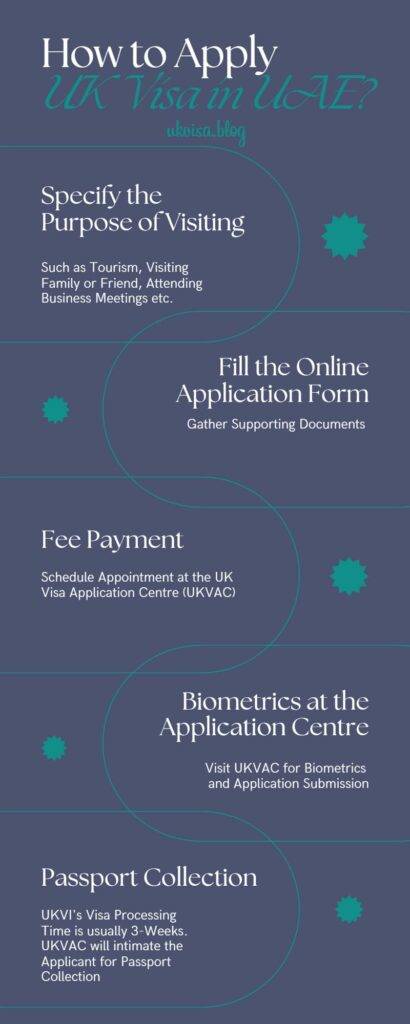 6. How to Apply for UK Visa from Dubai, UAE?
---
This guide outlines a step-by-step process for UAE and Dubai residents applying for a UK visa. The information provided is based on the standard UK visitor visa and assumes a processing time of 15 days. Priority service could reduce this to 5 working days.
Total Time: 30 days
Determine the Visa Type

Identify the appropriate visa category corresponding to your travel purpose from Dubai, UAE to the UK.

Register Online Account

Visit the official UK government website for visas and immigration. Create an account on the UK Visas and Immigration platform.

Complete Application Form

Fill out the specific online application form, ensuring all details are consistent with your supporting documents.

Pay Application Fee

After filling out the form, the system will guide you to an online payment portal to complete your application fee payment.

Prepare Supporting Documents

Gather essential documents such as a passport with UAE Residence Permit, financial status proof, and UK accommodation details.

Book VAC Appointment in Dubai, UAE

Dubai residents who are non-EU citizens must schedule an appointment at a UK Visa Application Centre (UKVAC) in the UAE.

Attend VAC Appointment

Arrive at the Visa Application Centre with all necessary documents. Complete biometric verification according to appointment guidelines.

Await Visa Decision

After submission, await the visa decision, which will be communicated to you.

Passport Collection or Delivery

Choose to either pick up your passport with the visa from the VAC or opt for courier delivery.

Prepare for Your UK Journey

Upon receiving your visa, make necessary travel preparations and understand the visa's terms.
Estimated Cost: 145 USD
Supply:
Application form
Valid Passport with UAE Residence Permit
Recent passport-sized photos
Invitation letter (if applicable)
Payment for visa fee in USD
Proof of UK accommodation
Tools:
Internet access
Passport with UAE Residence Permit
Financial documents
Materials: Hard copy of online application form, Copies of original documents, If required, mailing envelope for document submission.
UK Visa Application Centres in UAE
Abu Dhabi:
World Trade Centre, Lower Ground B2, Khalifa Bin Zayed 1st Street
Corniche Road, Al Khubeirah
Al Ain:
Remal Mall, 1st Floor, Khalid Bin Sultan Street, Opp. Kanad Hospital, P.O. Box 80079
Dubai:
WAFI Mall, Level 3, Falcon Phase 2, Umm Hurair 2
Dubailand, Hessa St, DAMAC Hills
Dubai Digital Park, Dubai Silicon Oasis, Industrial Area
Ajman:
Sharjah:
3rd Floor, Regus Building, Near Mega Mall, Al Qasimia
For further details please refer to find a visa application centre.
7. Documents Required for UK Visa from Dubai
---
Primary Documents
Valid Passport: Should be valid for the entirety of your stay in the UK.
Application Form: Filled out via the UK Visas and Immigration portal.
Proof of Accommodation: Information on your UK lodging.
Financial Evidence: Verification of your financial stability.
Travel Itinerary: Summary of your travel arrangements.
Ties to UAE: Documentation proving your intent to return to the UAE.
English Language Proficiency: Required in some cases, usually demonstrated through an accredited test.
The above list includes the primary documents required for all types of UK visas. For specific visas, consult the relevant guidelines for additional requirements.
Documents by Visa Type
Work Visas: Requires a job offer and a Certificate of Sponsorship.
Study Visas: Needs a Confirmation of Acceptance for Studies (CAS).
Family Visas: Requires evidence of relationship.
Tourist Visas: May require additional details about your trip.
For UK-Based Sponsors
Documents from a UK-based sponsor can strengthen your visa application, especially for visas requiring sponsorship like work or family visas.
Invitation Letter
Sponsor's Immigration Status
Financial Documents
Accommodation Evidence
Proof of Relationship
Sponsor documents are supplemental and fulfilling the primary visa criteria is mandatory.
8. FAQs: UK Visa UAE Processing Time, Fees and Requirements
---
How much is UK Visa Fees in Dubai?

UK visa fees in Dubai depends on the type of application. For instance, UK tourist, student, and spouse visa fees in Dubai, UAE, are US$145, US$619, and US$2,332, respectively.

How Long Does It Take to Process UK Visa from UAE?

In 2023, non-settlement visit, study, and work visa application processing time in Dubai is usually 3-weeks. UK priority non-settlement visit, study, and work applications processing time from Dubai is normally 5 working days. The additional cost of UK priority (non-settlement) visa service in Dubai is US$632.

What is Spouse Settlement Visa Processing Time in Dubai?

The UK settlement visa processing time after biometrics from Dubai for spouse, partner, family applications are usually within 12 weeks. Spouse priority settlement visa processing time in UAE is 6-weeks. The additional cost of UK priority settlement visa service from Dubai is US$632.

What is Super Priority Visa Processing Time in Dubai?

Super-priority service fee in Dubai is US$1,263 to process UK visa applications by next working day.