UK Tourist and Family Visitor Visa Requirements for Indians 2020
This guidance relates to UK visit visa requirements from India in 2020, especially for those Indian nationals who wish to apply for tourist and family visitor visa for London, England, for very first time – with reference to Coronavirus (Covid-19) restrictions. Therefore, explains how to apply for family visitor and tourist applications and meet the UK visit visa requirements from India? Moreover, also provides a checklist of the documents required for UK tourist and family visitor visa from India. And list of VFS India UK Visa Centres.
Get in Touch
Study Abroad
1. How to Apply?
UK Tourist Visa Application Requirements from India
The UK tourist visa application requirements from India usually consists of the following steps:
Specify the Purpose of Visiting the UK
Fill the Online Application Form
Schedule an Appointment
Pay the Application Fees
Upload/Prepare the Documents Bunch
Biometrics at UKVAC
Wait for the Decision
Passport Collection from UKVAC
Please note: the most common and popular application UK visa from India is the 6 months standard visitor visa aka England/London tourist visa. Therefore, a fresh applicant usually applies for the 6 months multiple-entry visitor visa for tourism, family, or business visits from India. Whereas a repeat visitor can also apply for a long-term visitor visa for tourism, meeting family or business from India. Moreover, after a refusal, an Indian citizen can reapply or file a judicial review. In fact, there is no right of appeal to challenge visitor visa refusal from India.
Enquiry Form
*What happens next?
Multilingual qualified London based immigration specialists will get back to you, usually within 2-3 working days. If you have not attached any documents, then the UK based Law firm may ask for the relevant Case-Specific Document(s) such as Refusal Letters, Deportation Orders, Application Forms etc. Moreover, after reviewing the papers and information, the legal advisor may advise a course of action and quote the fees for processing the application.
Have a wonderful day!
1. Purpose
In fact, it is important requirement to specify the purpose of UK visa from India. The purpose of visiting is usually tourism, meeting family or attending a business meeting or a conference. Therefore, the first step is to clearly, specify the purpose of the visiting. And then gather the required supporting documents to apply for the UK tourist visa from India.
2. Fill the UK Visa Online Application Form in India
An applicant needs to apply for UK tourist visa from India online. Moreover, applicants have the option of reading the questions in Hindi. However, can answer only in English. Accordingly, after selecting a language for reading the questions, one needs to select INDIA as the country to apply for the UK visa from India. Therefore, needs to fill the following sections of the online application form:
Travel Information
Personal Information
Passport Details
Spouse/Partner Details
Dependant Details
Parent Details
Employment, Income and Expenditure
Accommodation Details
Travel History (UK)
Travel history (other)
Other History
Convictions and other Penalties
Medical Treatment
Extra Information
English Language
Documents
Payment
Declaration
For further details, please refer to UK Tourist Visa 2020: how to fill the online application form?
3. Schedule UK Visa Appointment in India
Once an applicant has reviewed and finalised the application then can select the service type (standard or priority). And accordingly can schedule an appointment at one of the UKVACs in India. Moreover, an applicant can fast track a UK visa and immigration application from India by purchasing the priority or super-priority service. In fact, for facilitating business visitor visa application from India, the Home Office launched the super-priority visa service in May 2013. At present this service is available at UKVAC Mumbai (North), Chennai and Bangalore. Perhaps, the super-priority visa service is for a straightforward application. Moreover, the super priority service in India is only available for UK visitor visas, PBS Tier 2, Tier 5, Tier 4, Tier 4 (Child) and Tier 4 (Dependants) applicants.
4. UK Visa Application Fee Payment from India
Perhaps, paying the application fees is a mandatory requirement for completing and finalizing the UK tourist visa from India. Therefore, once an applicant has scheduled the appointment and selected the service type then can proceed forward to make payment online. And may take a print out of the final UK tourist visa online application form.
For further details please refer to UK visa fees in Indian Rupees.
5. Upload/Prepare Documents Bunch
Quite clearly, the requirements for submitting supporting documents for UK visa from India is the same as that for any other visa national. Therefore, an applicant applying for a UK tourist visa from India needs to upload/submit the required supporting documents.
6. UK Visa Biometrics Requirements from India
An applicant needs to attend appointment at one of the application centres in India for biometrics and submitting passport and the required documents for UK visitor or tourist visa application. Accordingly, the staff of the VFS Global application centre takes an electronic photograph of the applicant at the time of application submission. Moreover, the staff of UKVAC also takes an applicant's biometrics i.e. scanning of fingers + thumbs. Therefore, in case of a successful decision, the British HC or Embassy use the electronic photograph for the UK tourist visa vignette.
7. Wait for the Decision
Perhaps, the processing time for all types of short and long-term UK tourist and visitor visa applications from India is usually within 15 working days. However, the fast track or priority processing time of UK tourist visa from India is normally within 5 working days. Here it is important to note that at most the UK tourist visa processing from India is up to 12 weeks.
8. Passport Collection
Once the UKVI makes the decision on the application then the UKVAC will inform the applicant for passport collection. However, if the UK tourist visa from India remains unresolved even after 12 weeks or 60 working days then an applicant may need to contact the UKVI.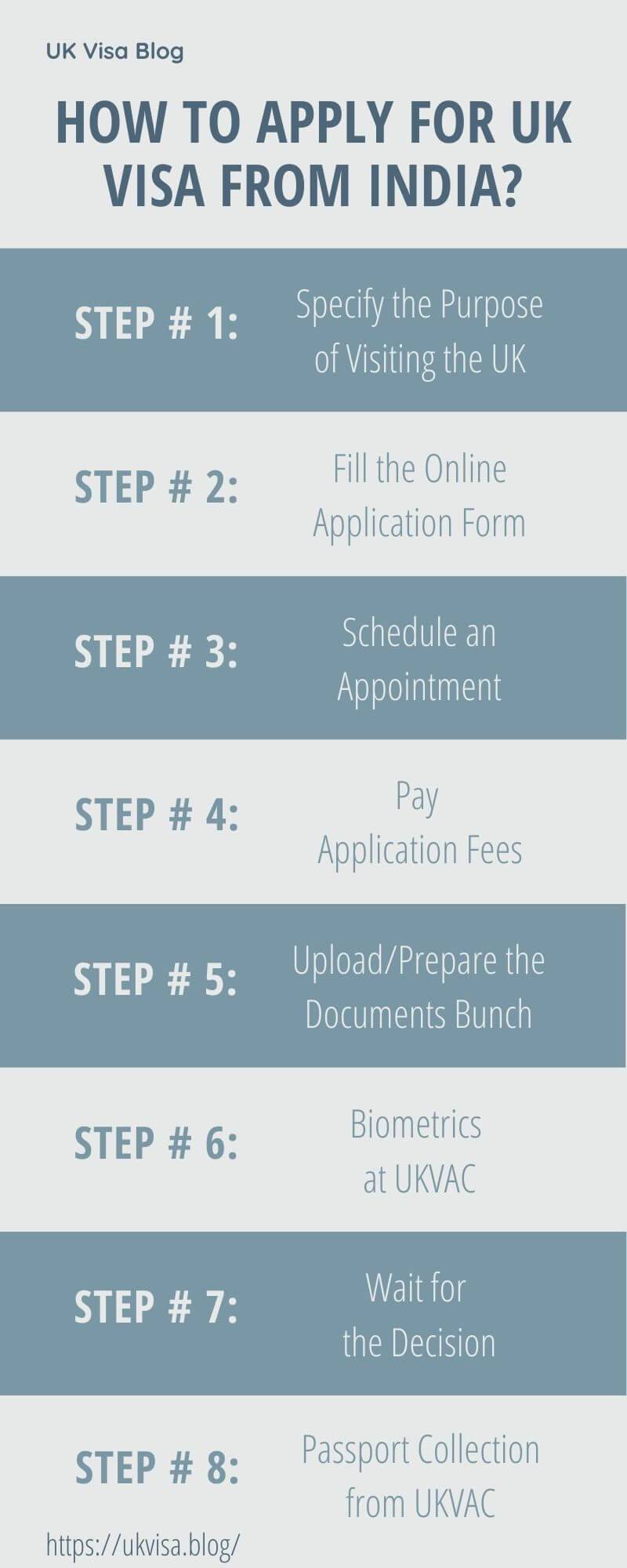 2. Supporting Documents
UK Tourist Visa Supporting Documents Checklist from India
An Indian citizen applying for a UK standard visitor visa from India may need following required supporting documents:
Online application form
Current valid Indian passport
Previous Indian passport, if applicable
Translation of documents, which are not in English/Welsh
Invitation letter, if applicable
A UK address for staying during the visit
Residential address in India
Telephone or mobile number
Marriage certificate, if applicable
Family certificate, if applicable
Business/Employer details
Tax registration certificate
Tax returns
Bank statements
Salary slips (for employed persons)
Conveyance/Mortgage Deed or Rental Agreement of the address in India
Evidence of assets
Please note, this is not an exhaustive checklist of the required documents to apply for UK visa from India, as these may differ due to the personal circumstances. For further details, please refer to supporting documents checklist.
Moreover, there is no requirement of submitting photographs with UK tourist visa from India. Certainly, the procedure has changed during the last few years. Therefore, the information relating to the requirement of submitting a photograph with UK tourist visa from India is misleading and outdated.
3. Coronavirus Restrictions for
UK Tourist and Family Visitor Visa from India
Before You Travel to the UK from India
Do not travel if you have coronavirus symptoms or are self-isolating
From Dec 18, 2020, travelling for a holiday is not permitted under Alert Level 4 in the UK
From Jan 18, 2021, a passenger is required to provide the evidence of a negative COVID-19 test result taken up to 72 hours (3 days) before departure
An Indian citizen needs to submit the Public Health Passenger Locator Form any time in the 48 hours before arrival in the UK
Optional: Book a Test to Release for reducing the Self-Isolation (Quarantine) Time from 10 to 5 days
Check FCO travel advice
Check your airline's requirements
If possible try to check in online
Plan your journey to the airport (check public transport advice as necessary)
At the Airport in India
Be patient and follow instructions from staff
Stay 2 metres away from others wherever possible
Wash or sanitise your hands regularly
Wear a face covering – without one you may be refused entry into the airport
If you require assistance, you should request this as you normally would
On Board Your Flight to the UK from India
Follow instructions from crew at all times
Remain seated as much as possible
Wear a face covering – they are required on flights in England, and many airlines require them for all
other flights
Be considerate of others – they may be exempt from wearing a face covering
Be alert for announcements about the requirements at your destination
On Arrival in the UK from India
Make sure you fill out the Public Health Passenger Locator Form online before you arrive
Follow crew instructions for disembarking the aircraft
Wash or sanitise your hands as soon as possible
Stay 2 metres away from others wherever possible
Go directly to the place where you will self-isolate – avoid public transport if possible
Observe self-isolation for 10 days in the UK – if you violate self-isolation rules then will be fined
4. VFS India UK Visa Services
In fact, the VFS Global in India offers several commercial User Pay Services, which may help applicants. And may help Indian nationals to meet the requirements relating to the required documents for UK tourist visa from India:
Premium Lounge Service costs ₹3,250/- and usually effluent Indian citizens opt this service. However, sometimes applicants erroneously refer it as premium visa in India!
Application and Document Checks cost ₹500/-. In fact, the checking service includes work relating to sorting and arranging UK tourist visa documents for scanning.
Document Scanning Assistance cost ₹1,000/-. Indeed, it is usually for preparing, sorting, and arranging supporting documents for visa application.
Courier Service costs ₹650/-. However, it is quite a useful service as it is for the return of documents and passports after visa processing directly to an applicant's home or work address
Extended Hours Passport Collection charges are ₹600/-. Indeed, this service is for after-hours passport collection from UKVAC and at times it is quite useful.
Primetime Appointment costs ₹3,500/- to apply for applications outside the standard service hours. The service is for business professionals, who don't have time to visit the UKVAC during office hours. However, due to its high price, it is not as popular as the Premium Lounge Service.
Automated Call-Back cost ₹200/- for updates on the application processing.
Form Filling Assistance costs ₹2,000/- for personal assistance on the phone or in person. Given the low price of the service, it is certainly not meant for immigration advice, but merely to fill an application form.
5. VFS India UK Visa Centres
List of VFS India UK Visa Centres
Ahmedabad – Ground Floor, Emerald House, Near Parimal Garden Cross Road, Off C G Road, Ahmedabad 380006, India
Bangalore – Global Tech Park, O Shaughnessy Rd, Langford Town First Floor ( Landmark Hockey Ground ) Bengaluru Karnataka 560025
Chandigarh– SCO 62 63, Sector 8 C, near Hotel Icon and Times of India office, Madhya Marg, Chandigarh 160018
Chennai– Fagun Towers, Second Floor, No 74, Ethiraj Salai, Egmore, Chennai 600008
Cochin– ST Arcade, Kurisupally Road, Ravipuram, Cochin 682016
Gurgaon– ILD Trade Centre, Fourth Floor, Sector 47, Sohna Road, Gurgaon 122001
Hyderabad– 8-2-700 3rd Floor, Sride Anushka Pride, Opposite to Ratnadeep Super Market, Banjara Hills Road No 12, Hyderabad 500034
Jalandhar– Lower Ground Floor, MIDAS Corporate Park, Plot No. 37, G.T. Road, opposite Jalandhar Bus Stand, Jalandhar 144001
Kolkata– 5th floor, RENE tower, Plot No. AA-I, 1842, Rajdanga Main Road, Kasba, Kolkata 700107
Mumbai North– Trade Centre, 'G' Block, Ground Floor, Bandra Kurla Complex, Bandra (East), Mumbai 400051
Mumbai South– Urmi Axis Building, 1st Floor, Behind Famous Studio, Opp E Moses Road, Mahalaxmi West, Mumbai 400011
New Delhi– Mezzanine Floor, Baba Kadak Singh Marg, Shivaji Stadium Metro Station, Connaught Place, New Delhi 110001, India
Pune– 4th Floor, E core, Marvel Edge, Viman Nagar, Pune 411014
Jaipur– Manglam Ambition Tower, 1st Floor Agrasen Circle (Malan Ka Chauraha), Subhash Marg C Scheme, Jaipur 302001
Goa– Gera Imperium – I, Office No 301, 3rd Floor, Patto, Panjim, Goa 403001
Thiruvananthapuram– T.C 2/2408-3 First floor, Asiatic Business Centre, Attinkuzhy, Kazhakootam, Trivandrum, Kerala 695581
Lucknow– Golden Tulip Lucknow, 6 Station Road, Lucknow 226001
Whitefield Bengaluru– Brigade IRV Centre – Nallurhalli, Whitefield, Bengaluru, Karnataka 560066
New VFS Application Centre in India – Electronic City TEL
Moreover, there is a new VFS Centre viz. Electronic City TEL located at The Oterra Hotel 43, Velankani Tech Park, Hosur Road, Electronics City Phase 1, Electronic City, Bengaluru, Karnataka – 560100. However, applicants need to pay an additional fee of INR 5061.00 for using the VFS Global's Electronic City TEL application centre.