Discover the UK Visa Fees Romania for 2023 and get an in-depth understanding of the application process tailored specifically for Romanian citizens and residents. This guide covers everything you need to know about obtaining a UK working visa for Romanian citizens, including fees, eligibility criteria, and key steps in the application process. Since Brexit, Romanians need visas for extended stays in the UK, including work and study, though short visits remain visa-free for Romanian passport holders. For non-EU residents in Romania, visas are mandatory even for shorter stays.
Published On:
---
Last Updated: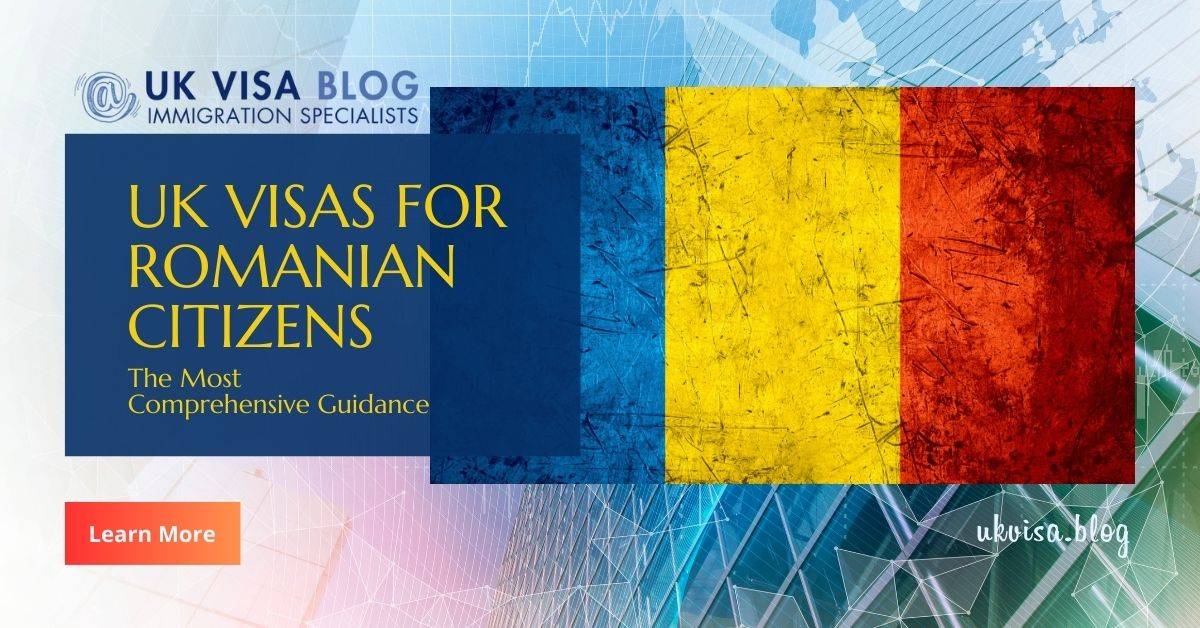 1. UK Visa for Romanian Citizens 2023
---
UK Entry Requirements for Romanian Citizens after Brexit
Romanian citizens do not need a visa for short visits to the UK for tourism, business meetings, and academic conferences, among other activities. They can stay in the UK for up to six months without a visa. However, for long-term stays involving work, study, or settlement, a specific UK visa corresponding to the purpose of the stay is required.
After Brexit, business travel from Romania to the UK has seen notable changes. While short business meetings might not necessitate a visa, activities like contracting, selling goods directly to the public, or providing services might require specific business visas. Romanian business travelers are advised to check the exact nature of their trip against UK visa specifications.
Can Romanian work in UK after Brexit?
Yes, Romanians can work in the UK after Brexit, but they need to obtain a work visa. Since the end of the transition period on December 31, 2020, free movement has ceased, and a visa is now mandatory for Romanians planning to work in the UK.
Romanians have the right to work in the UK if they possess an appropriate work visa, such as a Skilled Worker Visa, Health and Care Visa, or other employment-based visa categories. Employers will need to verify the work visa status of Romanian nationals before employing them.
Do I Need a Visa for UK from Romania?
Whether you need a visa to enter the UK from Romania depends on your nationality and the purpose and duration of your visit.
UK Visa for EU Residents from Romania: After the end of Brexit on December 31, 2020, EU, EEA, and Swiss citizens lost their automatic rights to reside or work in the UK. If you were residing in the UK before 2021, ensure to apply to the EU Settlement Scheme by June 30, 2021. Starting January 1, 2021, visas are required for work, academic purposes, and family settlement, while tourists can visit for up to 6 months with just a passport. Irish citizens are not affected by these changes and can enter the UK without a visa, as per the CTA agreement.
UK Visa for Romanian Residents (Non-EU/EEA/Swiss Citizens): If you're a non-EU/EEA/Swiss citizen residing in Romania, your requirement for a UK visa will depend on your nationality. For instance, an Indian passport holder living in Romania would need to apply for a UK visa for most purposes.
Cost of Moving from UK to Romania and Vice Versa
Moving between the UK and the Romania involves both the physical relocation of belongings and a change in immigration status. For UK citizens moving to Romania post-Brexit, a residence permit for work or study is typically required. The application process can take several weeks and may cost around €864 per applicant for three years work permit.
The price of a physical move is contingent on the quantity of items and the selected moving service. Full-service options can reach or exceed €3,500. Self-packing and freight service use can lower costs but require additional personal effort and time, typically completing within 1-2 weeks.
---
Get Expert Guidance for All Types of UK Visa and Immigration Applications, Reapplications, Refusals, and Appeals.
---
Enquiry Form
What Happens Next?
Our multilingual, qualified London-based immigration specialists will get back to you, usually within 2-3 working days. If you have not attached any documents, the UK-based law firm may ask for relevant case-specific documents such as refusal letters, deportation orders, application forms, etc. After reviewing the documents and information, the legal advisor may suggest a course of action and quote the fees for processing the application.
Have a Wonderful Day!
---
2. UK Visit Visa from Romania 2023
---
Romanian citizens, as part of the non-visa national category, usually do not require a visa for UK visits of up to 6 months. However, non-EU nationals living in Romania need to obtain a visa for such visits. In certain cases, as specified in Paragraph V 1.3 of Appendix V of the Immigration Rules, Romanian citizens must apply for a UK visa:
When intending to marry or form a civil partnership in the UK, or to announce such intentions formally.
If planning a stay in the UK that exceeds six months.
UK Standard Visit Visa from Romania
The standard visitor visa is for tourism, family visits, business meetings, short-term studies, and other allowed activities. Romanians and EU residents in Romania typically don't need a standard visa to visit the UK. However, non-EU residents like Indian or Pakistani passport holders must apply for a standard visa to visit the UK.
Essential Criteria: UK Visit Visa from Romania
To secure a UK Visit Visa from Romania, applicants must satisfy multiple criteria. The foremost requirement is stating the clear purpose of the visit, whether it's tourism, business, or visiting family. Applicants also need to provide proof of financial means to support their stay in the UK, along with evidence of accommodation arrangements. Furthermore, proof of onward or return travel is required to ensure the applicant intends to leave the UK after the visit. Meeting these essential criteria is critical for obtaining a UK Visit Visa from Romania.
In the year ending September 2022, a total of 79 Romanians applied for visitor visa UK. 72 applications resolved, 38 visit visas granted to Romanian nationals, and 33 applications rejected. Therefore, the UK visitor visa success and refusal rate from Romania are 52.78% and 45.83%, respectively.
UK Visit Visa Fee from Romania
As of 2023, UK visa fees from Romania are €138 for a 6-month visa, €481 for a 2-year visa, €927 for a 5-year visa, and €1,157 for a 10-year visa. All these visas have a maximum stay limit of 180 days per visit.
The standard visitor visa processing time form Romania is usually 3-weeks. Romanians can fast track the decision time within one week, by purchasing the priority service for €601.
UK Tourist Visa for Romanian Citizens
Romanian nationals applying for a UK tourist visa must complete an online application form and submit several key documents. These include proof of intent to return to Romania, evidence of financial means, and a thorough travel plan. The visa process requires a fee of €138, and applicants must provide biometric data at a visa application center.
Important Documentation for Romanian Applicants:
Intent to Return to Romania: Documents such as a letter from your Romanian employer or educational institution, confirming your commitments in Romania post-UK trip.
Proof of Financial Capability: Bank statements are required to show adequate funds for your stay in the UK.
Comprehensive Travel Itinerary: Detailed plans including confirmed accommodation and transportation bookings within the UK.
Snapshot: Other Romania to UK Visa for Visiting:
Marriage Visitor Visa: For those marrying or forming civil partnerships. Stay: Up to 180 days. UK Visa from Romania Fees 2023: €138.
Private Medical Treatment Visitor Visa: For private medical treatments lasting between 6-11 months. UK Visa from Romania Cost 2023: €240. Companions must apply separately.
Visiting Academics: For research or exchanges. Stay: Up to 12 months. UK Visa from Romania Cost 2023: €240.
Permitted Paid Engagement (PPE): For professionals on short-term specific paid tasks. Duration: Up to a month. UK Visa Cost from Romania 2023: €138.
Parent of a Child Student Visa: For parents of kids at fee-paying day schools. Stay: Up to 12 months. UK Visa Cost from Romania 2023: €766.
3. Study Visas in the UK 2023
Student Visa UK from Romania
---
The UK Student Visa permits Romanian citizens to pursue a range of educational opportunities in the UK, from higher education to Student Union roles.
In the year ending September 2022, a total of 358 Romanians applied for student visa UK. 357 applications resolved, 348 student visas granted to Romanians, and 2 applications rejected. Therefore, the UK student visa success and refusal rate for Romanians are 97.48% and 0.56%, respectively.
UK Student Visa Fees from Romania
Romanian students seeking to obtain a UK Student Visa will need to pay a standard application fee of €589. The processing of the visa typically takes about 3 weeks. For those requiring faster processing, there is an option for expedited service, available at an additional cost of €601.
Along with the visa fee, Romanian students are also obligated to pay the Immigration Health Surcharge (IHS), which amounts to £624 per year as part of their visa application process.
Short-term English Language Visa
The short-term study visa is designed for Romanians studying English in the UK for 6-11 months, costing €240. A 6-month course costs €138.
Work Rights for Students from Romania
Post-Study Work Opportunities
Romanian graduates can avail a 2-year post-study work visa. PhD holders can get a 3-year visa.
4. Family Visa UK for Romanians 2023
---
The UK Family Visa under Appendix FM allows Romanian citizens to join family members who are either settled in the UK or British citizens. Categories range from spouse visas to adult dependent relatives and parent of a British child visas.
In the year ending September 2022, a total of 54 Romanians applied for family settlement visa UK. 14 applications resolved, 12 family settlement visas granted to Romanians, and 1 application rejected. Therefore, the UK family (spouse) settlement visa success and refusal rate from Romania are 85.71% and 7.14%, respectively.
Spouse or Partner Visa UK from Romania
Eligibility: Romanian citizens must meet the requirements set out in Appendix FM of the Immigration Rules, ensuring a genuine relationship, financial stability, adequate housing, and English language competency.
Validity & Extensions: The spouse visa is granted for an initial period of 33 months and can be extended after 30 months. Eligibility for ILR is attainable after 5 years.
Cost: The standard visa fee is €2,218, plus an additional €601 for the optional expedited service
Other Family Visas:
Fiancé(e) Visa: For Romanians planning to marry or engage in a civil partnership in the UK. The visa lasts 6 months. After marrying or forming the partnership, they can switch to a spouse or civil partner visa. UK Visa from Romania Cost: €2,218.
Parent of a British Child: For Romanians with sole guardianship of a British child. UK Visa Fees from Romania: €2,218.
Adult Dependent Relative: For Romanians needing extended care from a UK relative. UK Visa Fees from Romania: €3,906.
Returning Residents: Romanians who were previously settled in the UK and wish to return. UK Visa Cost from Romania: €766.
EEA Updates:
The EEA family permit ended on June 30, 2021. However, Romanians related to an EEA national residing in the UK can still apply for the EU Settlement Scheme Family Permit at no charge.
5. UK Working Visa for Romanians after Brexit 2023
---
Can Romanian Work in UK?
After Brexit, Romanian citizens need work permit for working and doing business in the UK. Romanians often choose the Skilled Worker visa when seeking employment in the UK. Other options include visas such as the Innovator, Startup, Global Business Mobility, and Health and Care Worker.
In the year ending September 2022, a total of 2,882 Romanians applied for work visa UK. 3,015 applications resolved, 2,283 work visas granted to Romanian nationals, and 657 applications rejected. Therefore, the UK work visa success and refusal rate from Romania are 75.72% and 21.79%, respectively.
Skilled Worker & Health Care Visa from Romania:
Skilled Worker Visa: For Romanians sponsored for specific skilled roles by a licensed Home Office sponsor. It offers a route to permanent UK settlement. UK Visa Fees from Romania 2023: €864 (up to 3 years), €1,707 (longer than 3 years).
Application Fees for Skilled Worker (Shortage Occupation) Visa: €662 for a period of up to 3 years, €1,303 for periods longer than 3 years.
Health And Care Work Visa: For qualified doctors, nurses, or allied health professionals from Romania sponsored by a licensed Home Office sponsor. It leads to permanent UK settlement. UK Visa Fees from Romania 2023: €341 (up to 3 years), €662 (longer than 3 years).
Global Business Mobility Visa UK from Romania:
To qualify for any of Global Business Mobility visas, Romanian passport holders and residents must be sponsored by a UK employer for a specific role and score between 40 to 60 points based on the visa sub-category they are applying for. Note that this visa does not lead to UK settlement.
Quick Guide to Other Work and Business Visas:
Below is a brief overview of various UK visa categories along with their associated fees for Romanians looking to work or do business in the UK.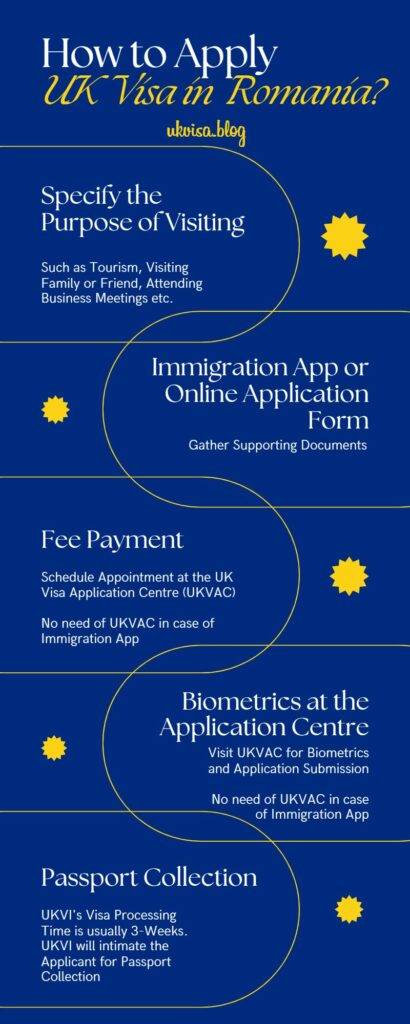 6. How to Apply for UK Visa from Romania?
---
A comprehensive guide tailored for Romanians and residents in Romania, outlining each step for applying for a UK Work Visa. This guide delves into the necessities for skilled workers aiming to work in the UK. Note: Priority service may expedite the process to 15 working days instead of the standard 30.
Total Time: 30 days
Assess Eligibility and Visa Type

Ensure you meet the general criteria for a UK Work Visa and identify the specific type of work visa you need, such as Skilled Worker (previously Tier 2 General), Health and Care, Global Business Mobility, T5 Temporary Worker, etc.

Secure a Certificate of Sponsorship (CoS)

Before applying, obtain a Certificate of Sponsorship from your prospective UK employer. This is a mandatory requirement for most work visas.

English Language Proficiency

Ensure you meet the English language proficiency requirements, either through certification or by coming from a majority English-speaking country.

Create an Account

Navigate to the UK's official immigration website and register an account on the UK Visas and Immigration platform.

Complete the Application Form

Fill in the online work visa application form, making sure all information is consistent with your CoS and other supporting documents.

Pay the Visa Fee

Complete the payment for the visa application fee as guided by the system.

Gather Your Supporting Documents

Compile essential documents like your Romanian passport, CoS, proof of English language proficiency, and financial documents.

Book Biometric Appointment

Schedule an appointment for biometrics at a UK Visa Application Centre (UKVAC) in Romania if not using Immigration App.

Attend Your Appointment

Bring all required documents to the Visa Application Centre and complete the biometric procedures.

Wait for Decision

After submitting your application, wait to be notified of the decision.

Passport Collection or Delivery

Upon approval, collect your passport with the visa attached or opt for courier delivery.

Prepare for UK Arrival

With your work visa secured, prepare for your travel to the UK, abiding by the conditions outlined in your visa.
Estimated Cost: 864 €
Supply:
Application form
Valid Romanian Passport
Certificate of Sponsorship
English Language Proficiency Certificate
Visa Fee in EURO
Financial Proof
Tools:
Internet access
Romanian Passport or Residence Permit
Financial documents
Materials: UK visa online application form, printed. Financial Statements: Previous 6 months' Bank Records. Original Document Copies: Conveyance Deeds, Rental Agreements, and Family Form.
Bucharest Visa Application Centre Romania
Location: DBH-Group Serviced office, Buzesti Business Center 2nd floor, Buzesti Street 50-52, Bucharest Sector 1, Romania
Working Hours: Wed-Thurs, 08:30-16:00
Appointment Hours: Wed-Thurs, 08:30-15:30
Prime Time Appointments: Wed-Thurs, 08:30-08:50 / 13:20
Keep My Passport Appointments: Wed-Thurs, 14:00-15:30
Ukrainian Scheme Passport Resubmission: Wed-Thurs, 14:00-16:00
For further details please refer to find a visa application centre.
7. Documents Required for UK Visa from Romania
---
UK Visa Application Instructions for Romanian Citizens
Passport or Travel Document Validity: Romanian applicants need to ensure that their passport is valid throughout the duration of their UK visit and includes a blank page for the visa sticker.
Application Form Completion: Romanians should accurately complete and authenticate their application via the UK Visas and Immigration portal.
Details of Accommodation in the UK: Romanian citizens must provide information regarding their intended accommodation during their stay in the UK.
Financial Sufficiency Evidence: Demonstrating adequate financial means for the duration of your UK stay is required.
UK Travel Itinerary: A detailed itinerary outlining travel plans and activities in the UK is necessary.
Ties to Romania Evidence: Proof such as employment, educational, or family ties in Romania, indicating the intention to return, should be provided.
English Language Skills: If mandated, typically proven through a certified English language test.
Note: The list here provides the basic documentation typically required for Romanian citizens applying for UK visas. However, it's important to check the specific requirements for the chosen visa category, as additional documentation may be necessary.
Category-Specific Documentation for Visas:
Work Visas: Documents including a job offer, Certificate of Sponsorship, and relevant qualifications are necessary.
Study Visas: A Confirmation of Acceptance for Studies (CAS) is required.
Family Visas: Proof of family relationships, such as marriage certificates or birth certificates.
Tourist Visas: Romanians may need to provide further details about their trip.
For Romanian Applicants with UK-based Sponsors:
Romanian residents with sponsors in the UK should include the sponsor's supporting documents, especially important for visas that typically require sponsorship, such as employment or family visas.
Sponsor Documentation Should Include:
An Invitation Letter from a UK sponsor.
Proof of the Sponsor's Immigration Status in the UK.
Financial Statements of the Sponsor.
Accommodation Evidence from the Sponsor.
Relationship Confirmation with the Sponsor, if relevant.
Remember: While support from a UK sponsor can be beneficial, meeting the primary visa criteria is crucial for Romanian citizens applying for a UK visa.
8. UK Visa from Romania Processing Time after Biometrics 2023
---
The typical UK visa processing time for non-settlement visas (including student, visitor, tourist, and work visas) from Romania is between 10-15 working days, or roughly 2 to 3 weeks.
With the priority service, visa applications are processed within 5-7 working days for an extra €601.
However, processing times might reach up to 12 weeks in some cases, owing to document verification, interviews, or delays. If your application is unresolved after 60 working days, it is wise to get in touch with UKVI.
UK Settlement Visa Processing Time from Romania
Processing times for settlement visas for spouses, partners, and families from Romania generally take up to 12 weeks.
For Romanian passport holders applying for a spouse priority settlement visa, the processing time is 6 weeks. The additional cost for this service is €601.
Super-Priority Service
Ensure next-working-day processing of your UK visa application with the super-priority service, available at €1,202.
9. FAQs: UK Visa Fees Romania 2023
---
How long can Romanians stay in the UK?

Romanians can stay up to 180 days on a visitor visa. For other visa types like spouse, student, and work visas, the duration is defined by the visa validity. Romanians can extend their stay by meeting Leave to Remain (LTR) requirements. Certain visa routes also allow for Indefinite Leave to Remain (ILR) and eventual British citizenship.

How Many Romanians Live in the UK?

As of 2020, around 350,000 Romanian-born residents lived in the UK, according to Office for National Statistics (ONS). This figure may have changed and doesn't include Romanians descendants or naturalized citizens.

Do UK Citizens need a visa for Romania?

From February 2023 onwards, for stays up to 90 days, visas are not needed, but ETIAS authorization is a prerequisite.

What Romanians can do if UK Visit Visa is Refused?

Romanians can reapply or seek Judicial Review. No appeal rights exist for visitor visa refusals. Appeals are possible on human rights grounds.

Can Romanians Work on Visiting Visa in the UK?