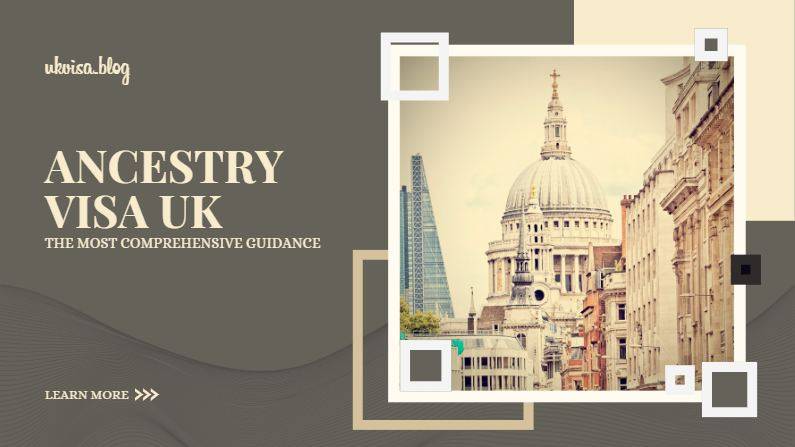 UK Ancestry Visa Requirements
A Commonwealth citizen can get UK citizenship through ancestry if:
one of their grandparents was born in the UK, including the Channel Islands and the Isle of Man, or on a British-registered ship or aircraft
a person's grandparent was born before 31 March 1922 in the Republic of Ireland
if either the applicant or the relevant parent was adopted or born within or outside marriage in the UK
However, a person cannot claim ancestry through step-parents.
Therefore, UK ancestry visa requirements are that the applicant:
is a citizen of a Commonwealth country or territory
is applying from outside the UK
can prove that one of their grandparents was born in the UK
is an able person, who is planning to work in the UK
is more than 17 years of age
meets the financial requirements
If a Commonwealth citizens meet the ancestry visa requirements, then can only apply online for an entry clearance application as a migrant can't change ('switch') into this category if they are already in the UK on another visa.
However, migrants under the ancestry route can work and study in the UK and can also bring dependant family members i.e. spouse/civil partners and children under 18 years.
After grant of the ancestry visa, migrants can stay in the UK for 5 years. Afterwards, can apply for ancestry visa extension (renewal) or ILR (settlement) in the UK. After ILR and meeting the residency requirements, migrants can also apply for UK Citizenship (Naturalisation) through ancestry.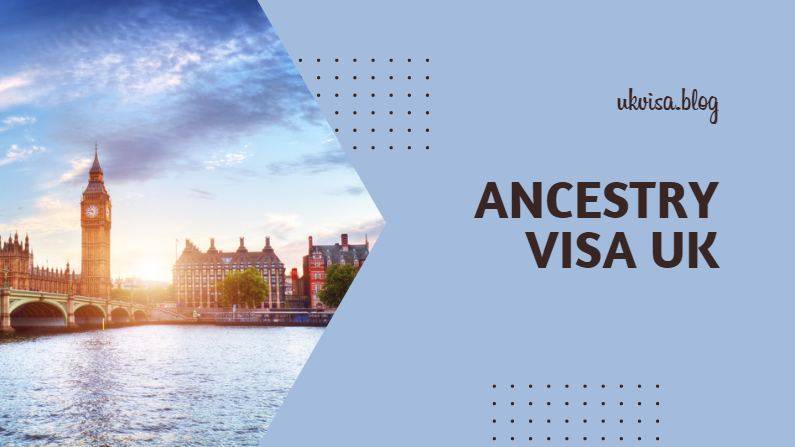 Enquiry Form
*What happens next?
Multilingual qualified London based immigration specialists will get back to you, usually within 2-3 working days. If you have not attached any documents, then the UK based Law firm may ask for the relevant Case-Specific Document(s) such as Refusal Letters, Deportation Orders, Application Forms etc. Moreover, after reviewing the papers and information, the legal advisor may advise a course of action and quote the fees for processing the application.
Have a wonderful day!
UK Ancestry Visa Financial Requirements
In terms of Paragraph 186(v) of the Immigration Rules, a migrant under this route is not eligible for public funds. Accordingly, an applicant needs to demonstrate that they will be able to maintain and accommodate himself/herself and any dependant family member without recourse to public funds. There are no specific financial requirements for UK ancestry visa.
Therefore, depending on the personal circumstances, an applicant needs to show availability of maintenance funds for meeting cost of living and accommodation, especially before getting salary or business income in the UK. For instance, to meet the UK ancestry visa financial requirements, an applicant can provide recent personal bank statements, dated no earlier than 31 days before the date of the application, with a minimum balance of £1,500-2,000.
Supporting Documents
For ancestry visa UK entry clearance application, an applicant needs to provide the following types of supporting documents:
Filled Online Application Form
A current passport with a blank page for the visa vignette or other valid travel identification
Bank Statements to meet the financial requirement for supporting the cost of living and accommodation in the UK
Tuberculosis Test results, if an applicant is coming to the UK for more than 6 months and is a resident of a country such as India, Pakistan, Nigeria etc.
A full birth certificate of the applicant
A marriage certificate or civil partnership registration document if an applicant's spouse or civil partner intends to join the applicant
The full birth certificates of the parent and grandparent on whom ancestry claim of an applicant is based on
Marriage certificates for an applicant's parents and grandparents if they were married
Legal adoption papers if an applicant or applicant's parents are adopted
Evidence of a work plan in the UK, for instance:

a job offer
a business plan for a self-employed applicant

Any additional documents depending on the personal circumstances
UK Ancestry Visa Extension (Renewal) Requirements
A person can apply for the UK ancestry visa extension (renewal) from inside the UK before the expiry of the 5-year entry clearance visa. The extension application enables a further 5-year leave to remain in the UK. However, instead of an extension, a migrant can also apply for settlement (ILR) under this route after 5-year if they meet the residency and language requirements. Therefore, the migrant needs to apply online on FLR (IR)] for extension (renewal) form. If a migrant is applying with dependant family members, then can ADD any dependants, including children who turned 18 during the applicant's stay in the UK, on the UK ancestry visa extension (renewal) application.
UK Ancestry Visa ILR (Settlement) Requirements
A migrant on UK ancestry visa, can apply for settlement ('indefinite leave to remain') if they
are living and working in the UK for 5 years
has spent no more than 180 days outside the UK in any 12 months of the last 5 years (known as 'continuous residence')
is between 18 to 64 years of age then needs to pass the Life in the UK Test
meets the English language requirements
Accordingly, a migrant need to apply online [SET(O)] for settlement under the ancestry route. If a migrant is applying with dependant family members, then can add their partner and/or any children.
An application for settlement under UK ancestry route may be refused under General Grounds of the Immigration Rules due to:
criminal record in the UK or another country
provision of false or incomplete information to the Home Office
breaching the Immigration Law
Family Members
An applicant's partner and children under 18 years of age can get ILR if:
the spouse or partner has permission to be in the UK, provided partner or spouse is not on a visitor visa
the spouse or partner is in a genuine relationship with the main applicant, and both intend to live together
an applicant has enough income to support him/herself and their dependants
the applicant is not resorting to public funds
the spouse or partner passes the Life in the UK Test and meet the English language requirements
Children
An applicant's children can apply if they:
have permission to be in the UK, provided they do not have a visitor visa
are not married or in a civil partnership
will live with the applicant
the applicant can support the children without using resorting to public funds
Moreover, both the applicant and child's other parent needs to be in the UK legally, or currently applying to enter, remain or settle, for the child to be allowed to settle. However, an applicant's child can also apply to settle if the migrant is the child's sole surviving parent or has the sole responsibility for the child's upbringing. And if there are serious or compelling family or other considerations – for instance, the migrant or child has a serious illness.
If the child is over 18 years of age, then needs to apply online.
UK Ancestry Visa Fees
The UK visa fees for the ancestry visa entry clearance application is £516. Moreover, an applicant also needs to pay £2000/- immigration healthcare surcharge (IHS) @£400 per year for the 5-year visa. The IHS fee is refundable in case of application refusal.
The Home Office fees for ancestry visa renewal/extension is £1,048, which are also subject to IHS. Moreover, an applicant also must pay £19.20 for biometric information i.e. fingerprints and a photo after application submission.
The settlement (ILR) application fee under the ancestry route is £2,389 per applicant.
Processing Time
The service standard is to process 90%, 98% and 100% ancestry visa applications within 15, 30 and 60 working days i.e. 3, 6 and 12 weeks, respectively. However, an application may experience delays in visa processing due to a host of factors such as documents verifications, interview, additional information etc. The priority service is not available for applications under this route.
The UK visa extension processing time is usually within 8 weeks. However, an applicant for a straightforward case may opt for the same day 24-hr super-priority service by paying £610. However, payment for super-priority does not either guarantee favour or expedient decision, especially if an application is not straightforward. For instance, if the Home Office needs to verify the supporting documents or calls an applicant to attend an interview. Moreover, if an applicant has a criminal conviction.
The ILR processing time is normally within 24 weeks or 6 months). An applicant can get a settlement decision within 1 working day if they pay £610 extra for super-priority service. However, payment for super-priority does not either guarantee a favourable or expedient decision due to documents verification, interview, past refusals, criminal conviction etc.
Chances of getting UK Ancestry Visa
Every year 4,000 Commonwealth citizens apply for UK ancestry visa with a success rate of 95%. Moreover, every year, more than six hundred migrants get a UK ancestry visa extension (renewal) visa with a success rate of 98%.