Gaining Indefinite Leave to Remain (ILR) status is a significant milestone for many living in the UK, marking an end to immigration restrictions and opening the door to eventual British citizenship. However, securing ILR is a process with its own set of stringent requirements and details that need to be navigated carefully. In this guide, we'll delve deep into the essentials of ILR, offering a comprehensive look at the requirements, the application process, and answering some of the most frequently asked questions on the topic. Whether you're contemplating applying or are deep into your journey towards ILR, this guide aims to provide clarity and direction.
Table of Contents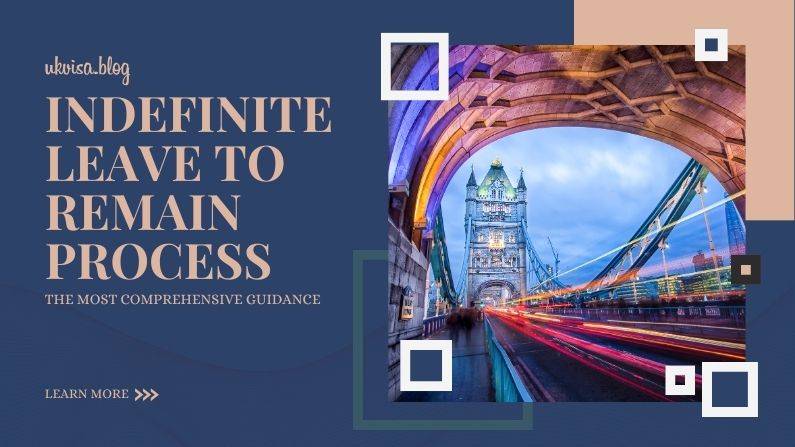 1. Introduction to Indefinite Leave to Remain (ILR)
---
Indefinite Leave to Remain: A Glimpse
Indefinite Leave to Remain (ILR) or UK settlement bestows individuals the liberty to reside and work in the UK without travel and immigration limitations. Those with ILR enjoy the flexibility to work, study, claim public benefits, and have their families join them. However, it's essential to note that ILR does not permit holders to vote or apply for a British passport. Furthermore, you may lose your ILR status if you remain outside the UK for over two years or face deportation due to a criminal conviction.
Further Leave to Remain vs. Indefinite Leave to Remain: The Distinction
If you're still not qualified for ILR, you might have the opportunity to temporarily extend your current visa and prolong your stay in the UK, known as Further Leave to Remain. Visitors usually have a maximum stay of six months, but under certain conditions, they can switch to another visa category. Crucially, it's imperative to apply for an extension before your current visa expires, as overstaying and living in the UK without a valid status is a punishable offense that can lead to deportation.
ILR vs. Citizenship: What's the Difference?
While both ILR and British citizenship offer the privilege to live and work in the UK without restrictions, they differ in several aspects:
Revocation: ILR can be revoked if the holder remains outside the UK for more than two years, poses a threat to national security, or faces deportation due to criminal activity. In contrast, British citizenship is perpetual.
Eligibility for Naturalisation: ILR is a prerequisite for those aiming to naturalise as British citizens. Generally, one must hold ILR for at least a year before applying for naturalisation. However, spouses of UK residents can bypass this waiting period.
Added Perks with Citizenship: British citizens can obtain a UK passport and possess the right to vote.
ILR & Permanent Residence: Are They Identical?
Previously, Permanent Residence was akin to ILR for EU nationals, offering an unrestricted stay with no limitations on travel. However, the advent of EU Settled Status has essentially replaced Permanent Residence. Before this transition, EU nationals would seek a Permanent Residence card after a five-year residency to use as evidence for naturalisation applications.
ILR vs. Right of Abode: A Comparison
While both ILR and the Right of Abode bestow the privilege to live in the UK free from immigration constraints, the latter is exclusive to British citizens and certain Commonwealth nationals.
ILR Duration: How Long Does It Last?
Although ILR doesn't come with an expiration date, holders might lose this status if they remain outside the UK for over two years, pose national security risks, or face deportation after a legal conviction.
Get Expert Guidance for All Types of UK Visa and Immigration Applications, Reapplications, Refusals, and Appeals.
2. Deciphering ILR Eligibility Criteria
---
Meeting the ILR Requirements
The UK Home Office does not grant ILR automatically. Applicants must meet rigorous eligibility criteria and present compelling evidence as part of the application process. These involve filling out the appropriate form and submitting corroborating documents.
Eligibility conditions can vary, with some based on the points-system, contingent on the type of visa status you've maintained in the UK. Generally, the prerequisites for ILR include:
Lawful residence in the UK for a specified period, which depends on your current immigration route.
A clean slate – no criminal records or violations of immigration regulations during your stay in the UK.
Less than 180 days spent outside the UK in any 12-month period during the qualifying residency period.
Success in the Life in the UK test.
Proficiency in English, equivalent to a minimum of B1 English proficiency as per the Common European Framework of Languages.
Understanding the UK Residency Requirement
The timing for ILR application is contingent on your visa:
| Immigration Status | Qualifying Period |
| --- | --- |
| Partner of a British Citizen/Settled in the UK | After 2 years for visas issued before 9 July 2012; 5 or 10 years if issued after 9 July 2012. |
| Tier 1 Visa | After 5 years. |
| Tier 2 Visa | In specific cases, after 5 years. |
| UK Ancestry Visa | After 5 years. |
| Retired Person Visa | After 5 years. |
| Discretionary Leave to Remain | After 6 years. |
| Long Residence | After 10 years of continuous legal residency in the UK. |
| Returning Resident | Immediately upon return, if settled in the UK prior to departure & returning within 2 years. |
Residency Duration Requirements for ILR Based on Visa Type
In instances where applicants have been granted 5 years of continuous leave but haven't spent the entire duration in the UK, the ILR application might fall short. For instance, if you're granted a 5-year continuous leave to enter but delay your UK entry by 6-8 weeks post the visa issuance, you wouldn't have completed the 5 years, making you ineligible for ILR. However, caseworkers may consider the period between entry clearance grant and actual UK entry towards the five years if this period doesn't exceed three months.
Furthermore, depending on your visa category, you may need to demonstrate that you haven't breached a specific threshold for absences from the UK. Family members on a dependent visa could also qualify for ILR if the main applicant meets the criteria.
3. Understanding the 180-Day Absence Rule
---
Changes were made in 2018 to the rules on how absences from the UK are calculated for Indefinite Leave to Remain (ILR) applications.
Before 11 January 2018: For those granted entry clearance or leave to remain, the rule stipulated that applicants should not have been away from the UK for more than 180 days in any of the five consecutive 12-month periods.
After 11 January 2018: Absences are now assessed on a rolling basis. This means that any 12-month period during the qualifying time is considered. If you have been away from the UK for over 180 days in any of these 12-month spans, you would be deemed to have an 'excessive absence'. This would essentially reset your residency clock.
Implications for Frequent Travelers:
This change is particularly important for skilled worker visa holders who often travel for work. Here are some recommendations if you're planning to apply for ILR and are worried about your time spent abroad:
Minimize Non-Essential Travel: Avoid unnecessary trips and limit leisure travel, especially if you can't reduce business travel.
Postpone Non-Urgent Trips: Consider delaying your travel plans until after you've secured your ILR.
Maintain Travel Records: Keep a detailed record of your travel dates and destinations. This will be essential for your ILR application and must be accurate.
Extended Absences Post-ILR: After obtaining ILR, if you continue to travel frequently, remember that your ILR status could be at risk if you're absent from the UK for more than two consecutive years.
Document Requirements:
Once you apply, you'll be guided on which supporting documents to submit alongside your application form. Ensure you print the form and include original copies of the necessary documents.
PBS Dependents and the 180-Day Rule:
The 180-day absence rule is equally applicable to PBS dependents applying for ILR as it is to the main visa applicant. However, the rule only considers absences during visa permissions granted post-11 January 2018. Notably, children are exempt from this rule; it only applies to spouses and unmarried partners of PBS visa holders.
4. ILR: Key Requirements and Considerations
---
1. English Language Requirement
ILR applicants must prove their English language proficiency, typically through a test that certifies B1 level or higher on the CEFR (SELT).
A degree taught in English, recognized by the UK's NARIC, can also suffice.
Nationals of certain English-speaking countries, including Australia, Canada, and the United States, are exempt.
2. Life in the UK Test
Most ILR applicants between 18 and 64 must pass the Knowledge of Life in the UK Test, covering the nation's history, politics, and culture.
The test is computer-based, costs £50, and requires a 75% score to pass.
The test is booked online via the Home Office and must be taken at an authorized center.
3. Criminal Records and ILR
The outcome of ILR applications may be affected by unspent convictions.
It's advisable to consult an immigration specialist if you have any convictions before proceeding with an application.
4. Transitioning from Spouse Visa to ILR
Spouse visa holders can apply for ILR after two grants of leave, provided they meet all requirements, such as income thresholds and English proficiency.
Spouse visa holders can apply for British citizenship upon being granted ILR.
5. EU Citizens and ILR
EU citizens who moved to the UK post-1 January 2021 will follow standard ILR routes.
Those who arrived before 1 January 2022 should have secured their status under the EU settlement scheme.
Full settled status is equivalent to ILR and is awarded after five years of UK residency.
6. ILR Status Post-Divorce
Divorce affects the UK immigration status of spouse visa holders.
You'll need to inform the Home Office about the divorce and might need to seek an alternative immigration route.
Options include applying for ILR as a parent, settlement under long residency, or considering retained rights of residence.
Another possibility is seeking a sponsored work visa if eligible.
5. Step-by-Step ILR Application Guide
---
1. Application Process for ILR
Complete the necessary application form.
Arrange an appointment at UKVCAS for biometric information and digital submission of supporting documents.
Ensure you've met the requirements for the Life in the UK test and the English language proficiency.
Pay the application fee.
2. Supporting Documents for ILR
It's imperative to gather the required documents for indefinite leave to remain (ILR) submission:
Current and previous passports/travel documents.
Birth or adoption certificates.
Records of time spent outside the UK during your residency.
Police registration certificate (if necessary).
Your complete immigration history.
Financial statements like bank records.
Certificates for passing the Life in the UK and English language tests.
Note: Consultation is advised for additional documentation to facilitate a smooth application process.
3. Timing for Application
You can lodge your ILR application 28 days prior to completing the qualifying period of continuous residence.
4. ILR Application Fee
The ILR application fee is £2389.
Each applicant, including dependents, must pay this fee.
5. Processing Duration for ILR
Typically, ILR applications are processed within a six-month timeframe.
6. Premium Processing Options for ILR
ILR Fast-track processing might be accessible for an extra fee:
ILR Priority Processing: A decision is made within 5 working days from the UKVCAS appointment or the subsequent working day after uploading all supporting documents through the UK Immigration: ID Check app. This service costs an additional £500 on top of the regular ILR application fees.
ILR Super Priority Processing: A decision can be anticipated by the end of the next working day post your UKVCAS appointment or within 2 working days if the appointment is over the weekend. This expedited service comes at an extra fee of £800 besides the standard application charges. Note: Weekends and bank holidays are not included in processing times.
6. ILR Application Forms
---
When it comes to applying for Indefinite Leave to Remain (ILR) in the UK, choosing the correct application form is crucial, as using the wrong one could result in a refusal. Here's a detailed breakdown of the two main forms used for ILR applications:
Form SET (O):
This form is utilized by a variety of categories, mainly those that relate to work, business, and other specific grounds. The various routes and their descriptions are as follows:
Tier 1 Categories:

Entrepreneurs and 'accelerated' entrepreneurs: For those who have established a legitimate business and generated jobs in the UK. Accelerated entrepreneurs can apply after 3 years, provided they've generated a turnover of £5 million or have created 10 full-time jobs for the settled population.
Investors and 'accelerated' investors: For individuals who've invested significantly in UK businesses. Accelerated investors can apply after 3 years, given a sufficiently large investment.
Exceptional talent: Individuals with essential skills for a business.

Skilled Worker and Tier 2 Workers: Those who've resided and worked in the UK for at least 5 years under a Tier 2 visa.
PBS dependants: Dependent children under 18 can use the same SET O form as their parent, provided they're in the UK during application. Those over 18 must apply separately.
Employment not requiring a work permit: Relevant for EU/EEA or Swiss Nationals working legally in the UK without a visa.
Overseas business representatives: Individuals setting up a UK branch for an overseas company.
UK Ancestry: Individuals with at least one UK-born grandparent and are in the UK via the ancestry route.
Retired person of independent means: Financially independent retirees living lawfully in the UK.
Bereaved partner: For those whose British Citizen partner or partner with ILR has passed away, and they intend to stay in the UK.
Other Categories:

Work permit holder
Dependant of work permit holder
Businessperson
Innovators
Self-employed lawyer
Writer, composer, or artist
Other categories not covered by specific application forms.
Form SET (M):
This form is tailored towards family members of individuals settled in the UK or British citizens:
Partner, parent, or child of someone settled in the UK or a British citizen applying for Indefinite Leave to Remain (ILR).
It's essential to review your circumstances meticulously and choose the appropriate form. Consulting an immigration expert can also be beneficial to ensure you're on the right track.
7. Insights After ILR Approval
---
1. Status Privileges:
ILR grants freedom to live, work, or study in the UK without any time limit.
2. British Citizenship and ILR:
ILR is a stepping stone to British citizenship via naturalisation.
It doesn't automatically confer citizenship, but meets one of its prerequisites.
Once naturalised, you can obtain a British passport.
3. Proving ILR Status:
While not mandatory, it's advisable to have proof of ILR for smooth re-entries into the UK and when demonstrating right-to-work.
Common proof includes a Biometric Residence Permit (BRP) or a passport with an ILR, ILE, or NTL stamp.
A letter from the Home Office may also suffice.
If lacking proof, apply for a BRP via a No Time Limit (NTL) application.
4. Employment Rights:
ILR provides indefinite work authorisation.
No separate work permissions are needed, and prior work-related restrictions are lifted.
5. Children Born in the UK:
Offspring born in the UK during your ILR status automatically gain British citizenship.
6. Application Refusal:
If your ILR application is denied, understand the reason to address issues in future submissions. Consider professional advice for the next steps.
7. Losing ILR Status:
ILR is generally permanent, but there are exceptions:

Absence from the UK for over two years results in loss of status. A Resident Return visa will be needed for re-entry.
ILR may be revoked for serious offences or national security concerns.
8. Conclusion
---
Navigating the intricacies of the ILR process can be a daunting experience, given its potential impact on your future in the UK. Understanding the frequently asked questions surrounding ILR can provide clarity and guide you in making informed decisions. The UK government offers a wealth of information and resources to ensure applicants are well-informed. Remember, securing your status in the UK not only represents an achievement of residency but also opens doors to numerous opportunities and rights. It's essential to stay updated, seek authoritative information, and consider professional advice if needed to make your journey towards ILR as smooth as possible.
Learn more about ILR eligibility on the UK government website.
9. ILR: Frequently Asked Questions
---
1. When is one eligible to apply for ILR?
You must fulfill the stipulated continuous lawful residency period in the UK without excessive absences. Applications can be made 28 days before reaching this residency period. If your entry to the UK was within 3 months of visa issuance, you can apply 28 days before the visa issue date.
2. As a Tier 2 or Skilled Worker visa holder, when can I apply for ILR?
Holders of Tier 2 or Skilled Worker visas are eligible to apply for settlement after five continuous years in the UK.
3. Can past criminal convictions impact my ILR application?
Yes, criminal records may affect your application. The type and severity of the offence play a role in determining eligibility. It's advisable to understand when a conviction is considered spent before applying.
4. I'm an EEA national with 5 years in the UK. Can I apply for ILR?
EEA nationals needed to apply under the Settlement Scheme by December 2020 to secure their lawful status in the UK.
5. Is a Biometric Residence Permit (BRP) necessary for ILR proof?
Successful ILR grantees receive a BRP to validate their immigration status. If you seek a resident return visa after a 2-year absence, the BRP serves as evidence of prior ILR status.
6. Are ILR holders eligible for public benefits?
Yes, with ILR, or settled status, you can access public benefits in the UK.
7. What if I don't qualify for ILR? How can I extend my UK stay?
If you're not yet eligible for ILR, you might qualify for 'further leave to remain', extending your current visa. Ensure your application is submitted before your existing visa expires.
8. Can ILR status expire or be revoked?
Although ILR is permanent, long absences (over two years) from the UK or serious offences can lead to its loss. To regain it, you might need a Resident Return visa.
---