Business Visitor Visa UK is your gateway to the myriad opportunities awaiting in the United Kingdom (UK), a leading international business hub. Whether you're an entrepreneur, professional, or investor, understanding the requirements of this visa is key to unlocking the potential of your business-related trip to the UK. This guide provides a comprehensive overview to navigate the process successfully, allowing you to focus on what matters most – your business.
Table of Contents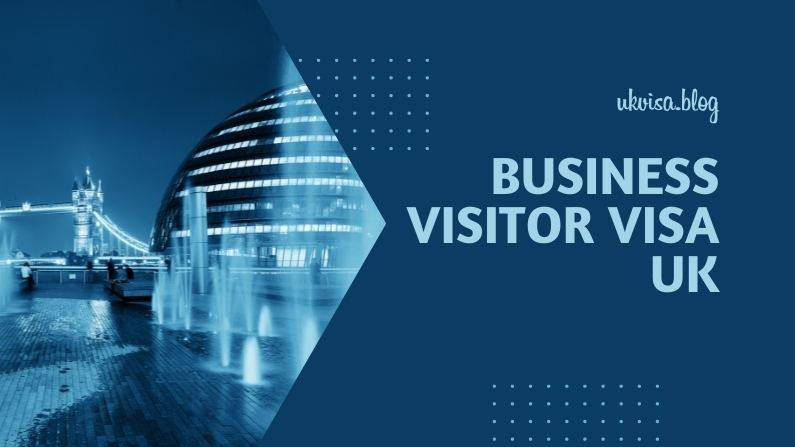 1. Introduction
Overview of the Business Visitor Visa UK
---
The UK Business Visitor Visa, categorized under the Standard Visitor Visa UK, is designed for individuals entering the UK for short-term business activities such as attending conferences, training sessions, business meetings, or negotiating contracts. With a validity of up to 6 months, exceptions are available for extended stays under specific conditions.
Citizenship requirements vary, with nationals of 111 visa-required countries having to obtain this visa for business travel to the UK. Residents of Kuwait, Oman, Qatar, and the UAE can avail of an electronic visa waiver (EVW) for short business visits, while non-visa nationals from countries like the US, EU, EEA, Canada, Australia, and New Zealand usually do not need a visa for business-related visits to the UK.
General Requirements for the UK Business Visitor Visa
---
To be eligible for a UK Business Visitor Visa, applicants must meet specific criteria:
Verify the Purpose of Your Visit: Evidence must be provided to confirm that the trip is exclusively for business-related reasons. This could include invitation letters, conference registration details, or a letter from the employer.
Demonstrate Financial Stability: Applicants must present proof of having sufficient funds to support themselves during their UK stay without depending on public funds. Relevant documents may encompass bank statements or other financial evidence.
Confirm Intent to Return: Proof of the intention to leave the UK after the visit is necessary. This can be demonstrated through connections to the home country, such as family bonds, employment commitments, or property ownership.
Hold a Valid Passport: A valid passport with at least one blank page for the visa stamp is a mandatory requirement.
Understanding these requirements is paramount for anyone considering a business trip to the UK. With proper documentation and adherence to the criteria, applicants can ensure a smooth application process for their UK Business Visitor Visa.
Get Expert Guidance for All Types of UK Visa and Immigration Applications, Reapplications, Refusals, and Appeals.
2. Application Procedure
Step-by-Step Guide to Applying for a UK Business Visitor Visa
---
The application process for a UK Business Visitor Visa is designed to be user-friendly and efficient. Here's a step-by-step guide to assist potential applicants:
Complete the Online Application Form
Begin by visiting the UK government's official website to fill out the online application form (VAF1A). It's crucial to ensure that all information provided is accurate and complete to avoid any delays or complications in the application process.
Pay the Visa Fee
The application fee for a Standard Visitor Visa is £100. Payment must be made online during the application process, following the instructions provided on the website.
Schedule an Appointment
Once the application form is submitted and the fee is paid, you'll need to schedule an appointment at your nearest UK visa application center. This appointment is necessary to submit your biometric information, including fingerprints and a digital photograph, along with the supporting documents required for the application.
Attend the Appointment
Ensure that you bring your appointment confirmation, original passport, and supporting documents to the scheduled appointment. It's advisable to arrive early and have all the required documents organized for a smooth process.
Wait for the Decision
The processing time for a UK Business Visitor Visa can vary, generally taking up to 3 weeks. It's essential to plan accordingly to allow sufficient time for the application to be processed. In some situations, priority services may be available for expedited processing, which could be an option if you need the visa in a shorter time frame.
3. Frequent Visits
Long Term Business Visitor Visa for Frequent Visits to the UK
---
The UK government extends the facility of long-term visitor visas for established businesspersons who frequently travel to the country. Valid for 2, 5, or 10 years, these visas offer flexibility but mandate specific requirements:
A Credible Ongoing Purpose
Applicants need to establish a continuous and genuine need for frequent visits to the UK for business, like ongoing contracts or partnerships.
Multiple Entry Rules
These visas permit multiple entries, with a limit of 180 days per visit, catering to international businesspersons needing regular travel to the UK.
Financial Stability and Intent to Return
Proof of financial stability and intent to return home, including proof of funds and ties to the home country, must be provided.
Other Standard Requirements
Standard UK Business Visitor Visa requirements also apply to long-term visas, such as a valid passport and evidence of business-related reasons.
By adhering to these criteria, business professionals engaging in ongoing commercial activities with the UK can enjoy a more streamlined travel experience through long-term Business Visitor Visas, aligned with their business requirements.
4. UK Visa for Attending Conference
Guidance and Tips for Getting a Conference Visa for the UK
---
Professionals, scholars, and others intending to attend conferences, seminars, business meetings, or academic symposiums in the UK should apply for the appropriate Conference Visa. This section details the requirements, process, and tips to ensure a successful application.
Types of Events Covered
The UK conference visa is specifically for participation in:
Conferences
Seminars
Business Meetings
Academic Symposiums
UK Conference Visa Requirements
Applicants must submit:
Invitation Letter: Detailing the conference and attendee's role
Valid Passport: Six months of validity required
Financial Proof: Funds for travel, accommodation, expenses
Travel Itinerary: Flight and accommodation details
Employment or Academic Evidence: Confirming the purpose of attendance
Additional Documents: As required by the embassy
Application Process for Getting a Conference Visa for the UK
Select Category: Apply for either the Standard Visitor Visa or Permitted Paid Engagement Visa
Complete the Online Form: Provide all necessary information
Pay the Visa Fee: Fees depend on visa type and duration
Attend an Interview: If required
Wait for Approval: Usually within 3 weeks
Which Visa to Apply for Attending Conference in the UK?
The choice depends on whether payment is received:
UK Standard Business Visitor Visa:

For unpaid attendance
Requires invitation, evidence of funds, return flight details
No payment from a UK source allowed

Permitted Paid Engagement Visa:

For paid participation
Requires formal invitation, professional status evidence, proof of funds, confirmation of UK payment
Conclusion: Choosing the Right Visa
UK Standard Business Visitor Visa: For unpaid events
Permitted Paid Engagement Visa: When payment is involved
Understanding these distinctions ensures proper compliance with UK laws and increases the chances of a successful application. Consult legal experts or the official UK government website for tailored guidance. Whether attending a conference or engaging in paid speaking, understanding these categories smoothens your UK visit application process.
5. Invitation Letter
Business Invitation Letter for UK Visa Template
---
The invitation letter is a critical document for those applying for a UK business visitor visa. It acts as formal evidence of the inviting company's intention to engage with the applicant for business purposes. It should contain specific details about the visit and be drafted with professionalism.
Letter of Invitation for UK Business Visa Sample
Here's a sample invitation letter that can be used as a reference:
[Company's Letterhead]
[Date]

[Embassy/Consulate Address]

Subject: Invitation Letter for Business Visit

Dear [Embassy/Consulate],

I am writing on behalf of [Company Name], located at [Company Address], to formally invite [Applicant's Full Name], holding the passport number [Applicant's Passport Number], for a business meeting to discuss [state the purpose of the visit, e.g., collaboration, partnership, etc.].

We have arranged meetings from [start date] to [end date], and the detailed itinerary is attached herewith.

[Applicant's Full Name] represents [Applicant's Company Name] in [Applicant's Country], and we have been in business correspondence for the past [duration].

The details of accommodation and transportation have been taken care of, and [Applicant's Full Name] will be staying at [Hotel Name, Address].

We assure that [Applicant's Full Name] will adhere to the UK's laws during the stay and will return to [Applicant's Country] upon completion of the business meetings.

Please find attached the necessary supporting documents, including a copy of our company registration, proof of relationship with [Applicant's Full Name], and financial documents.

We kindly request you to facilitate the necessary visa arrangements for [Applicant's Full Name].

Thank you for your assistance.

Sincerely,

[Signature]

[Full Name]
[Title]
[Company Name]
[Contact Information]

Attachments: [List of documents attached]
Conclusion
The invitation letter is a crucial document in the UK business visa application process. It should be drafted with care and precision, ensuring consistency with other submitted documents. The above sample letter provides a strong foundation, but it must be tailored to the specific situation.
Remember to include all necessary attachments, such as the detailed itinerary, and ensure that the information provided is accurate. The inviting party must also recognize the importance of the legal adherence assurance, as it carries significant responsibility. By following this guide, applicants can craft an effective invitation letter that meets UK visa requirements, avoiding common mistakes and emphasizing essential points.
6. Funds Requirements
How much money required for UK Business Visa?
---
Applying for a UK Business Visitor Visa necessitates careful financial planning. A detailed understanding of the estimated costs can assist in a successful application. Here's a comprehensive overview:
Airline Ticket:
Economy Class: Ranges from GBP 400 to 800
Business Class: Ranges from GBP 1,200 to 3,000
Note: Prices may fluctuate depending on the booking time, airline, and route.
Hotel Accommodations:
3-Star Hotels: Approximately GBP 70 to 120 per night
4-Star Hotels: Approximately GBP 120 to 200 per night
5-Star Hotels: Approximately GBP 200 to 250 per night
Many business travelers opt for hotels with conference facilities and business amenities.
Taxi and Transportation Costs:
Taxi Fares: GBP 15-50 per day within cities
Public Transport: Approximately GBP 5-15 per day
Car Rentals: Around GBP 30-70 per day
Daily Living and Food Expenses:
Meals: Around GBP 10-50 per meal, depending on dining preferences
Miscellaneous Expenses: An additional GBP 20-50 per day may be required for other necessities such as mobile data, tips, and more.
Total Estimated Cost:
For a one-week business trip, the total cost, including all the factors above, can range from GBP 1,500 to 2,500 for a single person.
Inviting UK Business Sponsor:
In some cases, the UK business sponsor may cover part or all of these costs.
This should be clearly outlined in the invitation letter, and the applicant must present proper documentation during the visa application process.
Additional Considerations:
Applicants should maintain funds exceeding the estimated trip cost in their bank account, demonstrating financial stability.
Having an additional cushion of around 10-20% above the estimated costs can contribute positively to the visa application.
Ensure thorough documentation of the inviting company's commitment to cover certain expenses.
Conclusion
The funds requirement is a vital aspect of the UK Business Visa application process. By considering the detailed breakdown above, applicants can effectively plan their trip, understanding the various costs involved. Ensuring proper documentation, including the sponsorship details, if any, can play a significant role in a successful application. It is advisable to consult with visa experts or follow the official UK government website for tailored guidance.
7. UK Visa Business Trip
Making the Most of Your UK Business Trip: Work with Pleasure
---
Balancing Business and Leisure in the UK
A business trip to the UK presents an opportunity to blend professional commitments with leisure activities. By thoughtfully planning your itinerary, you can engage in successful business interactions and explore the UK's cultural heritage and landmarks.
Planning Your Business Trip to the UK
Create a Flexible Itinerary: Prioritize your business meetings but allow flexibility for sightseeing and relaxation. Consider using downtime between appointments for leisure activities.
Research Local Attractions: Identify attractions near your business venue and strategically fit them into your schedule.
Consider Accommodation Location: Opt for a hotel that facilitates both business engagements and proximity to tourist sites.
Local Transportation: Research convenient and cost-effective transportation options, such as buses, trains, or rideshare services.
Sightseeing on a Business Trip
London: Include visits to the London Eye, Buckingham Palace, or the British Museum.
Edinburgh: Explore Edinburgh Castle and enjoy the Royal Mile's historical charm.
Birmingham: Engage with industrial heritage and experience shopping at the Bullring.
Manchester: Explore the art and music culture or catch a thrilling football match.
Wales: Embrace the breathtaking landscapes and explore historic castles.
Networking and Social Engagements
Local Business Events: Attend networking events that align with your industry or interests.
Cultural Experiences: Seize opportunities to immerse in the UK's vibrant culture, such as attending a local theater performance.
Dining: Savour local flavors at renowned restaurants or traditional British pubs.
Preparing for the Unexpected
Emergency Contacts: Store local emergency numbers, including your embassy contact.
Insurance: Secure travel insurance encompassing both business and leisure activities.
Weather Consideration: Pack versatile clothing to adapt to the UK's variable weather conditions.
Conclusion: A Rewarding UK Business Trip Experience
A UK business trip can transcend beyond mere professional engagements. By thoughtfully intertwining business obligations with leisure exploration, you can craft a rewarding experience. Proper planning, flexibility, and an eagerness to engage with local culture can transform a routine business trip into an enriching journey that fosters both professional advancement and personal enrichment.
8. Refusal Reasons
Avoiding Visa Rejection: Common Reasons and Tips for UK Business Visitor Visa
---
Common Reasons for Visa Rejection
Understanding the typical reasons for UK Business Visitor Visa rejections can guide applicants to prepare a more robust application:
Insufficient Documentation: Ensure all required documents are accurate, up-to-date, and complete. Lack of clarity or omission can lead to rejection.

Tip: Maintain a checklist of required documents and ensure alignment with official guidelines.

Inability to Prove the Purpose of the Visit: Demonstrate the business-related nature of your visit with coherent supporting documents.

Tip: Include a detailed itinerary, invitation letter, and other proof of business engagements.

Inadequate Financial Resources: Evidence of sufficient funds to cover your UK stay without relying on public funds is essential.

Tip: Include bank statements, sponsorship letters, or other proofs of financial stability.

Doubts About the Intention to Return: Prove your intention to return to your home country by establishing strong ties.

Tip: Present property ownership, family connections, or employment commitments in your home country.

Previous Immigration History: A record of overstaying or visa violations may lead to rejection.

Tip: Maintain compliance with visa conditions and consult legal advice if you have previous immigration issues.
Tips for a Successful UK Business Visitor Visa Application
Enhance your chances of obtaining a UK Business Visitor Visa by following these key strategies:
Plan Ahead: Allow ample time for processing and potential delays by starting your application early.
Double-Check Your Application: Meticulously review your application for accuracy and completeness.
Provide Strong Supporting Documents: Clear, verifiable evidence helps substantiate your visit's purpose, financial capability, and intention to return.
Be Honest: Misrepresentations may not only lead to visa denial but also future challenges in obtaining visas. Transparency is vital.
Consider Professional Help: If uncertainties arise, seeking assistance from a qualified immigration consultant or lawyer ensures compliance with regulations and maximizes the application's success chances.
Conclusion: Navigating the UK Business Visitor Visa Process
Being attuned to the common reasons for visa rejection and following the outlined tips can make the UK Business Visitor Visa application process smoother. Diligence, honesty, and proper planning are essential components for success, allowing you to embark on your UK business venture with confidence.
9. Conclusion
Embarking on a business journey to the UK is an opportunity filled with potential and promise. While the process of applying for a UK Business Visitor Visa might initially appear complex, it need not be an obstacle. With careful planning, adherence to the detailed guidelines, and a thoughtful approach, you can turn the visa application process into a straightforward task.
This comprehensive guide has been designed to illuminate every aspect of the visa application, from the intricacies of documentation to blending business commitments with leisure. The tools provided here not only aim to facilitate a successful application but also enrich your entire experience in the UK. Whether it's your first business trip or one of many, these insights and tips are geared to enhance your preparation, ensuring a seamless and rewarding journey.
For the most accurate and up-to-date information, always refer to the UK Government's Official Visa and Immigration Website. It serves as the ultimate resource, providing authoritative guidelines and specific instructions tailored to your unique situation.
Remember, a well-prepared traveler is a successful one. Here's to your upcoming UK business venture, and may it pave the way for growth, connections, and unforgettable experiences.
10. Frequently Asked Questions
Key Points for UK Business Visitor Visa Applicants
---
What is business visa in UK?
A business visa in the UK can refer to different categories, depending on the nature of the visit or activity. For short-term business-related visits like conferences or meetings, the Standard Visitor Visa or Permitted Paid Engagement Visa may apply. For entrepreneurs or professionals planning to establish or run a business in the UK, visas such as the Innovator or Global Talent visa may be relevant. It is essential to choose the correct category based on your specific circumstances, as incorrect use can lead to legal issues.
How to get business visa in UK?
For business visits (e.g., attending conferences), you can apply for a Standard Visitor Visa or Permitted Paid Engagement Visa. If you intend to establish or run a business in the UK, you might need to explore other visa options such as the Innovator or Global Talent visa.
How to apply UK business visa?
Applying for a UK business visa depends on the nature of your visit or business intentions. For short-term business visits, follow the process for a Standard Visitor or Permitted Paid Engagement Visa. For more entrepreneurial or professional endeavors, look into Innovator, Global Talent, or other appropriate visa categories.
Can I extend my UK Business Visitor Visa?
In most cases, you cannot extend your UK Business Visitor Visa beyond the initial 6-month period. However, under specific circumstances, such as academic research or medical treatment, you may be granted an extension. If you believe your situation warrants an extension, consult with an immigration professional.
Can I bring my family members on a UK Business Visitor Visa?
Family members can accompany you on your business trip, but they must apply for their own Standard Visitor Visas separately. Each family member needs to meet the visa requirements and provide the necessary supporting documents.
Can I study in the UK on a Business Visitor Visa?
While you cannot pursue a full-time course of study on a Business Visitor Visa, you may undertake short-term training or attend workshops related to your profession for up to 30 days, as long as this is not the main purpose of your visit.
Can I work in the UK on a Business Visitor Visa?
The UK Business Visitor Visa does not permit you to take up employment or establish a business in the UK. However, you can carry out permissible business activities such as attending meetings, conferences, or training sessions.
What is the processing time for a UK Business Visitor Visa?
The typical processing time for a UK Business Visitor Visa is 3 weeks. However, processing times can vary depending on the country you are applying from and the time of year. Priority visa services are available in some cases for faster processing.
What if my UK Business Visitor Visa is refused?
If your visa application is refused, you will receive a refusal notice (aka UK Visa Refusal Letter) outlining the reasons for the refusal. You can reapply for the visa by addressing the issues mentioned in the refusal notice and providing additional supporting documents as needed. Alternatively, you may file judicial review if you believe the refusal was based on incorrect information or a misinterpretation of the facts.
Thorough preparation and understanding of the visa requirements are essential for a successful application. Make sure to double-check your application and provide strong supporting documents to maximize your chances of obtaining a UK Business Visitor Visa.
Long-term Business Opportunities and Legal Considerations
---
How long is a business visa?
A Standard Visitor Visa, used for short-term business visits, is usually valid for 6 months. Other business-related visas, like the Innovator Founder, Scale-up, or Global Talent visas, may have different durations and conditions. It's essential to choose the correct visa category based on your specific business intentions in the UK.
How to start business in London?
To start a business in London, you must comply with various legal and financial requirements, including choosing the correct business structure and registering with Companies House. Note that you cannot start or run a business on a Standard Visitor or Permitted Paid Engagement Visa. Other visa categories, like the Innovator or Global Talent visas, might be suitable for business establishment. Starting a business on a Standard Visitor or Permitted Paid Engagement Visa is illegal and may lead to severe penalties such as deportation and re-entry ban.
How much money required for UK business visa?
For a business visitor visa, such as a Standard Visitor Visa, sufficient funds for travel, accommodation, and expenses (approximately GBP 1,200-1,800 for a one-week trip) are needed. For other business-related visas like Innovator or Global Talent, investment funds or endorsements might be required, and costs can vary significantly.
How much does it cost to open a small shop in the UK?
Opening a small shop in the UK requires considerations like location, size, industry, rent, licensing, and inventory. Costs may range from GBP 10,000 to GBP 50,000 or more. Be mindful that a Standard Visitor or Permitted Paid Engagement Visa does not allow for business establishment or operation; other visas may be necessary. Ensure you have the right visa, as opening a business on a visitor visa is illegal and can lead to deportation, re-entry bans, and other serious consequences.